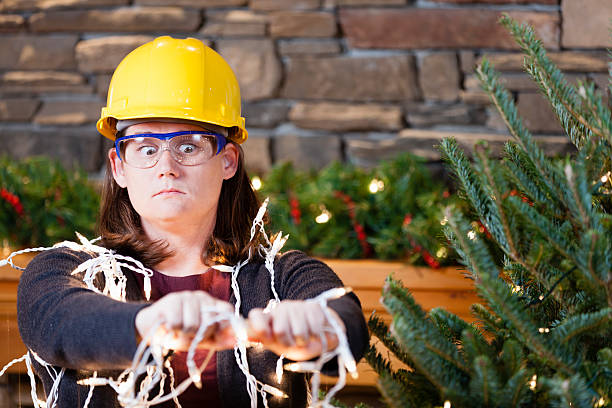 It is true for most of us what the famous carol says about Christmas, It really is the most wonderful time of the year. But if you are not careful it may be the most dangerous time. Sometimes the stress of the holidays can make us forget about some important things like hazards that can harm our families. A lot can go wrong if you don't take the right precautions to ensure you and your family are safe during the holidays. From electrical cords to candle, it is important we know how to protect our family. So here are the top 10 holiday safety tips:
Top 10 Holiday Safety Tips
1. Inspect electrical decorations before use
Carefully inspect all lights, decorations, and extension cords for damage before you use them. Sockets may cause a fire if they are cracked or damaged. Lose or bare wires and loose connections may cause shock or start a fire. Please ensure you do not mount the cords in such a way that you cause damage to them and expose the insulation which can cause someone to be shocked.  Never replace bulbs on decorations unless you unplug them first.
2. Don't overload your electrical outlets
Never overload your electrical outlets with too many decorations or cords, this can cause the outlet to overheat and cause a fire.
3. Never connect more than 3 strings of incandescent lights
Never plug up more than three sets of incandescent lights at one time. This can not only blow out a fuse but it can start a fire.
4. Keep your Christmas tree watered
Buying a fresh Christmas tree is not only a great way to bring that fresh Pine smell into your home but the tree is good for you(having that extra oxygen in your home). However, it comes with a price – the upkeep. A dry Christmas tree is a big-time fire hazard for you and you must make sure you keep it watered. If you are forgetful like me, that might not be a good idea.
Make sure you buy a fresh tree, then slice a piece off the bottom of the trunk before setting it up to help it absorb water. Then add water to the tree stand and be sure to add water daily.
Get rid of the tree after Christmas. Dried-out trees are a fire hazard and should not be left in the home or garage, or placed outside of the home.
5. Use battered operated candles
One in three house fires is caused by candles that are left unattended between the hours of 11:00 P.M. and 7:00 A.M. So the best way to prevent fires caused by candles is to use battery operated candles. They come in many different shapes and sizes and can smell and look almost real. However, if you do decide to use wax candles take these precautions:
Keep candles out of reach of small children and pets because they can easily knock them over spilling wax.
Trim the wick 1/4 inch each time before you use them
Place them in a sturdy glass, metal, or ceramic holder
Never leave a candle unattended
Blow them out before going to bed
6. Turn off, unplug, and extinguish all decorations when going to sleep or leaving the house
Christmas decorations and lights are one of the most festive parts of Christmas. My family loves the way the lights illuminate our home at night indoors. However, the temptation of leaving them on all night is not such a good idea. Electrical fires are the third cause of house fires and they can be caused by a number of reasons. But one reason is equipment malfunction. So always turn off, unplug, and extinguish all decorations before bed. Also, examine decorations again for damage.
Have trouble remembering or want an easier way to turn on and off your Christmas light? Try using an automatic timer outlet. You can use them to set a time to turn on and off your lights. It can be the same time or a different time every day.
7. Keep a watch over foods that are cooking
According to the NFPA, the number one cause of house fires is cooking equipment. Not to mention Thanksgiving is a peak day for fires. So, never leave food unattended, be mindful of your task in the kitchen and if you are an epileptic cook on the back burners. 
8. Protect cords from damage
Make sure the cord's do not get crushed by any objects such as windows, furniture, doors which can cause damage to the insulation and cause shock. Also, do not place them under rugs or put them next to heat sources.
9. Check decorations for certifications
Where you purchase your lights is important.  Make sure you inspect your decorations for the Underwriters Laboratories (UL) Canadian Standards Association (CSA) or Intertek (ETL). If this tag is missing that means the item has not been inspected for safety.
10. Keep combustibles at least 3 feet away from heat sources
According to the NFPA, 26 percent of Christmas tree fires were caused because some heat source was placed too close to the trees. I know it is tempting to put the tree near the fireplace or to have beautiful candles placed around it but what is more important your life or your decorations? Keep your tree three feet away from the heat.
Conclusion
The holidays are one time of the year many of us look forward to but when it gets here so does the stress. We may not be able to do everything to avoid the stress that the shopping, cooking, and socializing may bring but we can prevent safety hazards.
These are just the top 10 holiday safety tips that we may have to deal with inside and from decorating, there are many more other things you need to ensure your family is safe from when it comes to this holiday.
Have you gotten started on your Christmas decorations and Can you check off all or most of these safety tips? Is there anything that I might have left out? Please feel free to leave your tips in the comment section below.