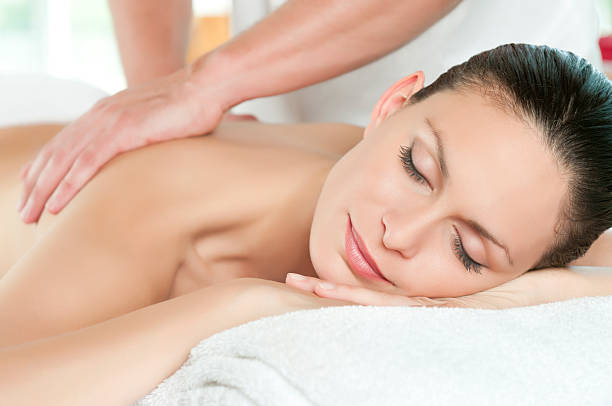 After a long day of working, caring for the kids, and the home, a mother can be tired and stressed. There is nothing that would be more satisfying than a body massage. The benefits of full body massage go beyond loosening tight muscles and could benefit many. Below is a list of the top 10 benefits of massage that may make you want to reconsider setting up an appointment or asking your partner to pull out the oil.
What is a massage?
Massage is defined as rubbing and kneading of your muscles and joints in your body by someone's hands to relieve tension and pain. Massage therapy can be traced back to over 5,000 years ago and has been used as a sacred means of natural healing in many cultures.
Types of massages
Swedish
When you think of a massage this is probably what you are thinking about because this is the most common form of massage. This type of massage uses oils to perform different strokes. This massage can be slow and gentle or vigorous and stimulating.
You are usually nude under a towel during a Swedish massage and you start by laying with your face down in a U shaped crate.
Deep Tissue Massage
Deep tissue massage is where firm pressure and slow strokes are used to reach the deep layers of the muscle and the connective tissue around the muscles. Though some of the strokes may feel the same as a Swedish massage it is not, because deep tissue massage is used to break up "knots" and adhesions in the muscles that may be causing pain.
The massage may start with lighter pressure to warm up the muscles and two techniques may be used:
Stripping: This is a deep, gliding pressure that is used along the length of the fibers on the muscles using the therapist's elbows, forearm, knuckles, and thumbs.
Friction: This is when pressure is applied across the grain of the muscle to release any adhesions and realign the tissue fibers.
Deep tissue massage usually works on a specific problem like chronic pain or rehabilitation or the following conditions:
Low back pain
Recovery from injury (like whiplash)
Repetitive strain (like carpal tunnel)
 Muscle tension
Sciatica
Upper back pain
Fibromyalgia
Osteoarthritis pain
Postural problems
Sports concerns
Sports Massage Therapy
Sports massage therapy is geared towards athletes of all kinds. It focuses on parts of the body that can get overused and stress out from repetitive and aggressive movement. It can be used as a way to increase recovery time in an injured athlete or enhance performance during pre-event preparation.
Sports massage has many benefits including:
it promotes flexibility
it reduces fatigue
it improves endurance
it helps prevent injuries and
it prepares the body and mind for optimal performance.
Benefits of massage
With stress so extreme in our society today, many people receive massage therapy for many different reasons but did you know that there are lots of benefits of a full body massage. Here is a list of the top 10 benefits of massage that you may want to look into it.
1) Reduces stress and anxiety
Probably one of the biggest benefits of a massage is the fact that it helps relieve stress and anxiety. During your massage, hormones such as cortisol are released which can calm your body and also help keep depression at bay.
2) Relieves pain and stiffness
A massage is a natural painkiller. It releases endorphins which not only relieve pain but helps with migraine headaches and tight muscles. It also helps those sore muscle after an intense workout.
3) Increases circulation
A massage increases circulation by helping oxygen and nutrients get to the tissues and organs in your body. It is also great for your blood pressure.
4) Helps the skin
Want a way to improve your skin? Did you know that a massage can remove dead skin cells all over your body which in return can improve your skin tone? It also helps to encourage the regeneration of tissue which reduces scars. Different types of massage oil can provide moisture to your skin as well.
5) Improves immune system function
Massage therapy can increase the number of active white blood cells in your body which is responsible for fighting viruses. According to researchers at Cedars-Sinai Medical Center in Los Angeles, people who got a massage for just 45 minutes had an increase in lymphocytes.
6) Improves heart health
A study showed that massage was very effective in controlling blood pressure in prehypertension women and that this could last for a whole 72 hours after the massage.  Another study showed that those who had Swedish massage for a period of four weeks had lower blood pressure than those who didn't.
7) Keeps your stomach healthy
Abhayangam oil massage therapy massages the stomach and lower abdomen. This relieves you of gas and helps ensure that gastric juices are secreted and the liver and spleen function properly. This area is gentle so precaution must be taken.
8) Get rid of stretch marks
This is something most mothers can appreciate. Getting regular massages can help get rid of stretch marks because it stimulates the production of melatonin. Plus the oil keeps the top layer of the skin moisturized.
9) Removes toxins from your body
Massages cause the chemicals in our body to be released within your body and the toxins are brought out through your muscles. Swedish massage helps release toxins by increasing blood flow and removing toxins from your tissues. After the massage the therapist will advise you to drink plenty of water to help get rid of the toxins.
10) Improves sleep quality
This is probably one of the best benefits of a massage. Good sleep leads to good health and when your body and mind is relaxed you can sleep much better. So next time you have trouble sleeping, you and your partner should give each other massages.
Conclusion
From stress relief to better quality of sleep, there are many reasons to get a massage. Before you had to go strictly to a therapist to get a massage but now you can learn how to give a massage on your own. If you are feeling stressed take a date night and exchange massages with your partner.
Have you ever had a body massage? Have you ever given a massage? I would love to hear your experiences below.