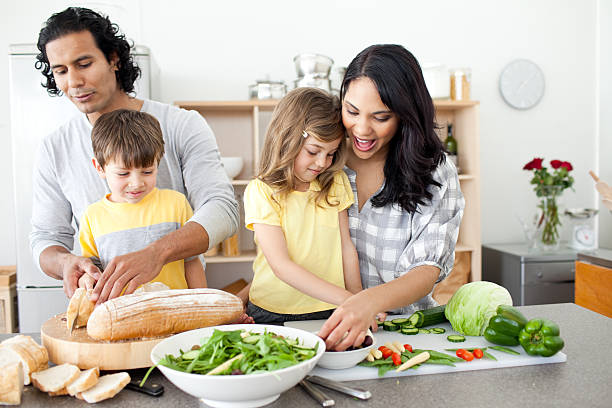 Getting dinner on the table should be easy enough. But, that is not always the case, am I right? Between the shopping, the planning, the prepping, and the cooking, making dinner can be exhausting. Not to mention you may be tired already from a long day of working or caring for the family. So how can you change the process so you can make dinner easy?
Here are 7 tips to help make getting dinner on the table a little bit easier. Because we sure don't need to keep calling the pizza man, now do we? Or maybe sometimes, Lol!
1.Weekly Meal Template
Let's try planning the whole week ahead of time instead of planning one meal at the last minute. Believe you me, it is much easier to stick to things and get them done when they are planned out. Meal templates make this task much easier. Not only that sitting down and planning your week will save you time and you definitely need plenty of that. You don't have to plan to make all the meals for the whole week. You can still leave room for takeout or leftovers so you don't overwhelm yourself.
You don't have to plan to make all the meals for the whole week. You can still leave room for takeout or leftovers so you don't overwhelm yourself. Plan a day for a certain meal to make it easier, like fish Fridays, taco Tuesdays, sandwich Sundays, Manwich Mondays, the list can go on.
Click Here to Download Your Own Printable Weekly Meal Plan –  Weekly Meal Plan
2. Plan a Weekly Shopping List
If you are anything like me then you need a grocery list to make sure you get everything you need for the week. I am very forgetful and can still forget things on my list, Lol! Having a grocery list will go hand and hand with your weekly meal planner. Some meal planners have a grocery list on the side of it which saves even more time. Smart!
For a Free Printable Grocery List Click Here
3. Pick a Day to Plan Your Meals and Shopping List
You don't want the task of writing up your grocery list and meals for the week to become overwhelming so try to pick one day out of the week to sit down somewhere quiet and complete your list. Think about your weekly schedules and make sure to include time to work around kids games, meetings, and such. Don't forget to add family time into the mix.
4. Do a Crock Pot Meal Night
I love my crockpot and the main reason I use it, believe it or not, is not time but the delicious dishes you can put together. However, I must admit using my crockpot does save me a lot of time and it is very easy to use. I can wake in the morning and after breakfast have everything in the crockpot and it is ready for dinner. Not to mention there are so many recipes for all seasons of the year you can make. Picking one night a week to use your crockpot is a great way to save time. I like Sundays!
For 50+ Easy Crock Pot Meals Click Here
5. Don't Be Afraid to Get Ideas
You don't want meal planning to become repetitive. Don't be afraid to get inspiration from others. I like to watch Food Network and learn a new recipe and different recipes. I also go to different websites like Allrecipes to get recipes and read different magazines I am subscribed to. My family isn't always open to new stuff but you win some and you lose some.
For me, it is a great way to learn new flavors and ideas to add into the mix so I am not always making the same dishes. We still have our traditional meatloaf and hamburgers but at least we experience change.
6. Help Please!
As I always say, there is nothing wrong with mommy getting a little help in the kitchen. I cook and my hubby does the dishes. May not seem like much but I think he gets more time with dishes then I get with cooking, Lol! My daughter loves to help me cook so I give her task that is easy enough for her age. Something as easy as getting help with the vegetable preparation will go a long way. Which leads me to my next tip…
7. Prepare Vegetables Ahead of Time
After your shopping trip that is a great time to get your vegetables ready for the week. You can wash and cut up some your veggies and put them in ziplock bags. I freeze my celery and onions for things like soup dishes or my crockpot dishes.
I love shortcuts and saving time. For some 15-minute Dinners from Kraft Click Here
Conclusion
Meal planning can be stressful and to leave it up to the last minute causes an even bigger headache. Any shortcut that helps me prepare for dinner I am all hands in. With four kids and I husband, I need all the time I can get. When planning ahead always leave room for unplanned circumstances, you never know if you might get sick or something.
Get creative with your meal planning and pick meals that others can make to give you a break.
I have my kids make homemade pizza dots with me on the weekend. Not only do we get to spend time together but it beats calling the pizza man and they taste so much better(in my opinion).
I hope these tips are useful to you and your family. Do you have a shortcut you use to help make dinner easy? I would love to hear about it in the comments below. As always any feedback is always welcome.