When you are a parent with small children (or even teenagers) there may be one goal you face above all others and that is how to have a clean, organized home. Mothers and Fathers can often spend a lot of time cleaning after others. Then you have the cooking and the laundry, the bathrooms and the rooms, there is just so much to keep up with. I can always appreciate useful tips that can help save me time and energy, can't you? Well, this contributed post will provide you with exactly that…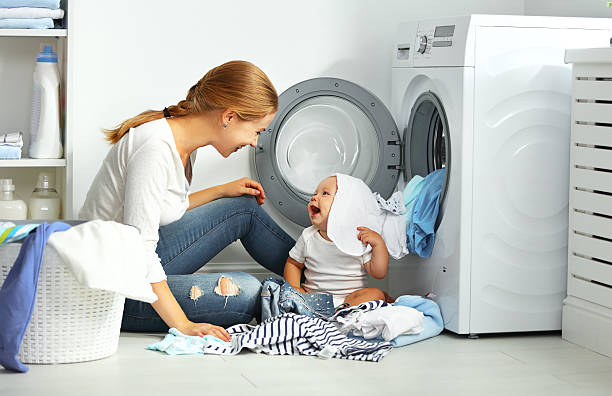 We all come across people in our life that are high maintenance from time to time. They usually need bags of attention and effort to keep them stable and happy, and it can be exhausting! However, sometimes it is our homes and lifestyle that are high maintenance! That is why it is important to consider how much energy and time you are spending on keeping them clean and tidy, and how much is this contributing to your stress levels. Don't panic though, as there is a way you can lead a lower maintenance life, just read the post below to find out how.
Tidy as you go
One super simple way of living a lower maintenance life is too tidy as you go. What this means is that you aren't left with a huge big pile of washing up, mess, and chaos that takes ages to sort out. In fact, if you tidy as you go you can save a lot of stress and hassle in the long run because it helps to keep your environment much more hygienic and organized as well.
Imagine being able to know exactly where to put your hands on something as soon as you need it, or not having to do a deep clean of the kitchen and bathroom every few weeks because its already in a presentable state! These are some of the low maintenance advantages you can expect from tidying as you go.
Declutter
The next step to a lower maintenance life is to rid your home of clutter. Yes, I know you have heard this tip a million times before, but there is some reasoned advice underpinning it.
Firstly, clutter creates more surface area to clean and dust, and secondly, it also breaks up the line of a room. This can make it seem smaller and more claustrophobic than it needs, something that isn't great for anyone's stress levels.
To rid your home of clutter, however, you have to take in that it is a constant process. That means each week you need to scan your home and remove any broken, unused, unwanted, or unnecessary items. To prevent yourself getting bogged down in this set yourself 10 minutes to do it for the entire house, as this will help you make snappy decisions about what to keep and what to throw.
Stay on top of repairs
A low maintenance lifestyle also requires you to be proactive rather than reactive when it comes to home maintenance and repairs. This means booking in regular checks for boilers and others device linked to utilities, as well as having a reliable company that you can call on for HVAC repair when you need it. After all, with things that affect the home environment, being prepared is always less stressful than being caught off guard!
Get help
Last, of all, don't forget that moms shouldn't have to stress themselves out doing all the work on their own. In fact, other family members such as the kids and your other half can be involved in the steps above.
Why not use the cleanup song above to make tidying up more fun for the kids?
It can even be very helpful to employ a professional cleaner, either on a regular basis or for single intensive jobs. Then you won't end up exhausted and in a position where you are unable to follow the rest of the steps above to achieve a low maintenance life.
Conclusion
The amount of effort we spend on cleaning can be due to our lifestyle choices. If we allow cleaning jobs to pile up it will make it a lot more difficult to deal with. So by tidying up as you go, it can take the stress off of a job. For instance, bathroom cleaning jobs can be a lot easier to maintain if you keep up with it all week instead of letting things pile up. 
Doing simple things in the bathroom like making a point to empty the trash or spraying the shower down after you use it can make keeping the bathroom tidy a much easier task.
Clutter is not only harder to get rid of once you have allowed it to begin, it is bad for your health. It causes stress and can even make it hard for you to sleep. By keeping up with clutter you eliminate the chances of high-stress levels and you reduce the chances of you becoming a hoarder. 
Just remember, dealing with clutter is a constant effort.
We all hate dealing with repairs in our homes and waiting till they are at there worst state is not only stressful but it is bad on our pocketbook so staying on top of repairs is very important. It is like your car, you must regularly check your oil, and lights, etc., right? So you should do the same with your home.
As always, no one should deal with all this responsibility on their own, so the last tip is very important. Make sure you get help from your household. Besides others in the home have their own responsibilities and you have to teach your children to be independent. Implement age appropriate chores and use tools to help make cleaning fun.
Which tip did you find most useful? I would love to hear your thoughts below!