The holidays can be a very enjoyable time as families gather together but on the other hand, it can be a very stressful time for some and even more stressful for the one responsible for the cooking, shopping, and decorating. With so much to juggle already, it is important to figure out how to deal with the holiday stress so you don't miss out on what many consider one of the best times of the year.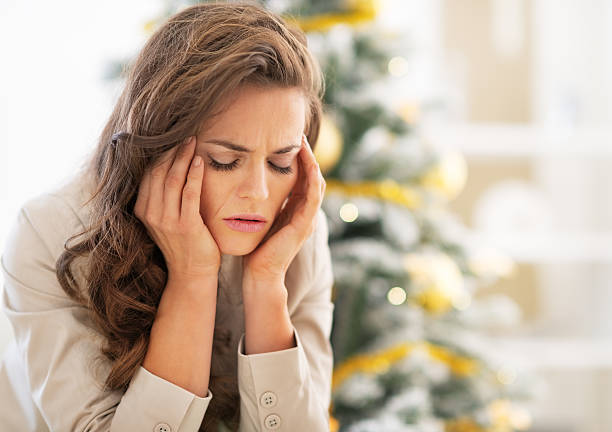 How to deal with holiday stress
I know I love the holidays but it wasn't always easy to maintain the pressures or keep up the expectation of the previous year. Trying to get dinner just right can be difficult and a lot of work and not to mention you have to decorate and shop. If you are like me you want to be able to enjoy the holidays and you don't want to let stress get in the way. Here is a list of 9 ways that can help you deal with holiday stress and make time for your family a lot more enjoyable for you.
Plan ahead
There is nothing more useful when it comes to deadlines than time management. If you think about it the holidays are like one big deadline, you have to get everything before each Holiday day. If you took the time to plan out how you will attack your holiday it is useful in reducing stress. I keep a calendar for the days when I will do certain tasks, like pies here, bread, here, ham at this time, and so on. I tell you, I wouldn't have been able to pull it off without it.
Shopping is treated the sem way. I am already planning my gifts, my daughter doesn't know (and she won't get a chance to read this, I hope, Lol!) but I have been watching her as she talks about certain items she likes so I can purchase them.
Stick to your budget
I have four kids so planning a budget has always been a no-brainer for me, but sticking to it wasn't always easy. If you are like most parents you want your kids to have the best Christmas and when you start shopping it is hard to shop. But when the bills come in that is when the stress can come in for some of us, so sticking to the budget is very important.
Learn to say "NO"
Do you like doing things for others? I do and I have a hard time saying no but during the holidays I can't stretch myself so thin that nothing gets done so learning to say No is probably the most important for me. I feel like Mrs. Krank on the movie "Christmas with the Kranks" when she was hiding from her neighbors because she was too passive to say no but her husband wasn't lol, that is me for sure.
Great movie by the way.
But if you say yes when you didn't want to then it leaves you feeling what? – resentment and stressed.
Take a breather
I don't want to sound like a broken record but taken time to yourself is a great way to deal with the stress of the holidays. It gives you a moment to yourself to take a breather and think about everything and then you can pace yourself. You can sneak away and do some of the things you enjoy or maybe take a walk to get some fresh air. 
Share the tasks
Who said you had to do it alone? I don't know either. Maybe you are like me and you don't want no one messing you your tree (Lol, I am really picky) or maybe you don't want no one in the kitchen distracting you. That isn't going to work out in the long run, so maybe you should let them do some of the things like cut the celery, clean the dishes. Either way, let them help you with something.
Keep your regular healthy sleeping, eating, and exercise habits
With how busy you are with holiday excitement we seem to neglect our normal routine. I mean who has time for exercise and food. "Doesn't shopping count as enough exercise?" I mean not really. You need to exercise to build up that endorphin in your brain to help trigger that positive feeling in the body it gives you. This will help boost your mood and reduce your feelings of stress and anxiety. Now that you can definitely use. Plus, don't you want to keep that figure in shape to get ready for that holiday meal?
Try some simple exercises like
You also want to ensure you are rested. I feel like I say this all the time but it is important so you have all the energy you need to get everything done. You don't want to burn the food because you were tired.
Don't overdo it
Putting too much on your plate can make things even more stressful so make sure you set realistic goals for yourself. If you don't think you can handle a family party dinner at your home this year remember that "NO" word. it is Okay I am sure they will understand. Or you feel you need help with the family dinner as everyone to bring a food item. Hopefully, they won't all bring mashed potatoes, Lol!
Change up the recipes
If you want another natural way to reduce your stress during the holidays, try swapping some of your favorite holiday recipes with a stress-reducing recipe.
Check out this Raw Blueberry Cheesecake recipe from Jesse Lane that gets all of its sweetness from the dates, blueberries and a pinch of stevia making it sugar-free and bursting with fiber and antioxidants.
Stay positive
No matter how difficult of a situation you may find yourself in this holiday season remember to stay positive. Negative thinking can trigger the same fight or flight stress response (the need to take care of an immediate threat) in our bodies. So stay positive and remember to enjoy the time with your family. Having a positive outlook on the situation will help you cope with the stresses you may face.
Conclusion
Don't let stress ruin your holidays. Take time out now to prepare and plan for what's ahead. You don't have to be Martha Stewart, just enjoy this time with your family. Remember what you enjoy the most, your family and make new traditions and memories with your loved ones.
Don't neglect your health during this time. Make sure you remember to keep a healthy diet, sleep at appropriate times, and get the exercise you can. Take regular breaks to catch your breath and communicate with your partner if it is getting too stressful.
So how do you feel about this upcoming holiday? Is there anything you are worried may be stressful this year? Do you think you can utilize any of these tips? or Do you have tips of your own?
Please feel free to share your thoughts and feedback in the comment section below.