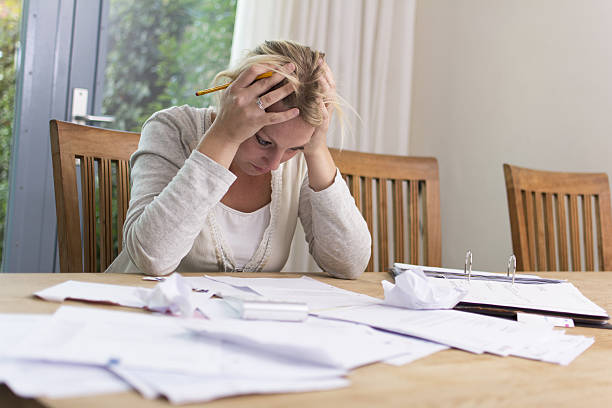 Are you stressed about money? You are not alone. In 2015, a survey by the American Psychology Association showed that 72% of Americans were stressed about money in one month alone. That is a lot of worrying. Not to mention the stresses of finances hits mothers the hardest. Not many of us know how to deal with financial stress and it takes a toll on our family.
In this article, I will talk about the cause of financial stress and give you tips to deal with them, run a smoother household, and get a better nights rest.
Main contributors to financial stress
There are many reasons people have to deal with financial stress and as a parent, the reasons can increase when you are responsible for others. Some of the top reasons some people are under financial stress include:
Paying off debt
According to a 2016 study by Nerdwallet, the average U.S. household has a credit card debt balance of  $16,748, and the average household with any kind of debt owes $134,643.
Paying off credit card bills, medical bills, and college loans can really weigh on a person and cause stress and anxiety.
Not being able to retire
For many people over the age of 45, their second financial stress is worrying if they will be able to retire. In fact, 59% of those aged 45- 64 not only worry will they have enough money to retire but if they will have enough money to do what they desire later in life.
No money for an emergency expense
With many people struggling to keep up with debt and expenses it is hard to put away extra money for savings. Not to mention, those who have lower incomes have an even harder struggle saving for a rainy day and for most it is their number one stressor.
According to Gallup, 55 percent of Americans say they are worried about not being able to cover emergency expenses. This can make many feel as if they are always broke and live in constant fear of the future.
Education expenses
Paying for a college education is stressful for many. According to CNBC,  98 percent of college applicants and their parents said that they would need financial aid to help pay for college. Not to mention out of 10,000 respondents, 66 percent of them reported high levels of stress.
College expenses continue to rise every year but still for most it is worth the stress.
Unstable income
An unstable income can make it hard to budget your expenses. So those faced with uncertainty find dealing with finances a lot more stressful than those with a more stable income. In states with a higher unemployment rate, this is something other may face more often. Having an unstable income can leave you feeling trapped and in constant fear.
Paying off rent/mortgage
Your mortgage and rent is the most important expense you have and your mortgage is often the largest and longest debt you owe. Because of things like income fluctuations and increased debt, paying your rent and mortgage can often become harder to pay. Knowing it is the most important debt can drain you emotionally.
How to Deal With Financial Stress
It may not be possible to eliminate financial stress but there are ways to help calm your bodies stress responses so that you can better deal with the stress and work through the complications.
The best way to deal with financial stress for most is to be smarter with your money and your choices. Change your perspective on your finances and find new ways to handle each situation. Here are a few tips to help you deal with the top causes of financial stress.
1. Create a Budget
Starting a budget is always the first step and best way to help with financial stress. Budgeting helps give you a full perspective on what and how you can spend your money. It will help you get closer to any saving goals and retirement plans.
Starting a budget will be difficult but once you get the hang of it you will not have to spend as much time on it and you will spend less time worrying about your money. I keep a journal and I make a monthly budget so that I can set realistic goals each month.
2. Determine What You Can Change
Often financial stress is due to an income or spending issue or both. If your income is low then figure out ways to improve it. Like going back to school so you can get a higher paying job. If you have trouble spending then try getting help possibly from a Shopaholics Anonymous group or have your partner help.
Start small and make realistic steps – change takes time. Simply changes like eating out once less each week or getting a cheaper cable package can make a big difference.
3. Start Your Emergency Fund
An emergency fund is one of the top financial worries of most of us but putting it off will only add to the worries. Building an emergency fund will seem overwhelming at first especially when you live pay check to pay check, so start small. Even putting $20 away at first is better than nothing.
4. Decide What You Can Afford
Paying for college can be stressful but it is an expense most parents must face. If you haven't saved enough money for your child's first choice school try a less expensive option. If possible your child may want to start out at a community college and transfer to save on cost. Your children should apply for scholarships and grants and if possible work so that they can participate in a work-study program.
5. Ask for Help
Sometimes the stress of finances is more than one person can handle. If you are struggling to get a hold of your finances it is okay to look to others for help. If you are overwhelmed by debt there are free credit counseling services that can help by coaching you through budgeting and other services. A financial planner can help prepare you for things like retirement and long-term investments. Talking to a friend or family member can give you support and an outsiders perspective on your situation.
Conclusion
Financial stress is something we all may face. You may think that having more money is the solution to your problems but truthfully even rich people worry about money.
Remember, change takes time so being hard your self will only add to your self. Start with realistic goals so you have an easier time sticking to them. Focus on what you want to achieve and not how much money you have. Take a positive outlook on your situation and believe in the change.
Are you facing any of these financial stressors? Are there any tips I may have missed? Leave a comment below and tell us what you think.