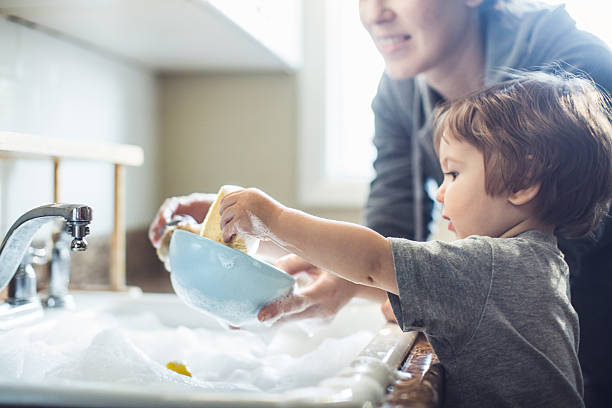 Chore charts are a  great way to manage chores for the household. As a mother, it isn't always easy to get the kids (or your partner for that matter, Lol) to help with household chores, so creating a chore chart is a great creative way to assign responsibilities and assign rewards and punishments. But creating an effective chart is more simple than you think so today we will be learning how to create a chore chart for your family.
Chore charts can be a great way to get your children motivated to want to do chores. Here are a few tips to help you make a successful chore chart.
How to Create a Chore Chart
1.Pick the right visuals
Some children need visual presentations to help them better understand tasks. Some children learn better when they hear instructions, so read over the chores out loud. Also, if you have young children who can read as well, you may want to use visuals. Older children's chores may need to be explained to them first.
You can have a list that allows children to check off items as they finish them to help them stay organized. Or you can have visual cards(or tasks on popsicle sticks) that can be removed once completed.
2. Be an example
Children are like sponges and they soak up every bit of information from adults. If an adult slacks they are more likely to do the same. So set an example for your child and perform your chores when they perform theirs. Plus, doing things together as a family can be much more exciting and motivating. Make sure you supervise your children to ensure they are doing things right. 
3. Choose according to age
Since all chores do not work for all ages, find a list of age-appropriate chores for your children. Sometimes though a chore is too old for your child, you can make a few adjustments to make it appropriate. For instance, you can lower a closet rod to make hanging clothes more accessible.
4. Involve the kids
Involving your children in decisions is a great way to make them feel apart of things and is another great way to keep them motivated. Allow your children to help you pick out the best visuals for the chart. They can even help you make it.
5. Consider using rewards
Whether you decide to make chores a requirement or an option for an allowance, choosing the right reward system, in the beginning, is best. Just remember to teach your children that being clean and tidy is important without getting paid for it. Remember a chore chart is a great way to teach children about earning money for a job well done!
6. Don't be harsh
With reward comes responsibility and with responsibility comes consequences. If your children fail to complete a chore there must be consequences but you never want to be harsh. Being hard on your child can make it stressful for them and you don't want your children to give up. When they need help, offer to help them.
7. Don't forget off days
In the same way, parents need a day off from work, allow everyone time off from hard chores. Allow room between chores for other activities. Include room for a family game night, movie nights, and other activities.
8. Change it up
Keep it fun by changing up your chore charts every now and then. If your kids seem to get tired of the chart find something together as a family.
Now that we have learned a few tips to make a successful chore chart, let's look at some designs
Which Design is Best?
1. Free Printable
Many chore charts allow you to customize the number of squares, graphics, and text. The best part about free printable charts is that you can print them, use them, and throw them away. You don't need any extra materials to make them. Here are a few sites with a great selection of free printable chore charts.
FreePrintableBehaviorCharts.com
2. Clothes Pin Chore Chart
This chore chart is simple to make and easy to use. It only takes a little material and time to make. This chart wouldn't work for smaller children who don't know how to read. For the design in the image click below.
For more designs click the sites below.
3. Magnet Chart
This project is easy to make and use and fun for the children because they get to move the little magnet pieces around. You can put pictures or write the chores on the buttons which are great for different ages.This design is much more elegant than some of the simpler designs and can be hung up wherever needed. For the design in the image click below.
For another design click below.
4. Work for Hire Chore Chart
If you have pre-teens or teens in your home this may be a great chore chart for you. This simple design allows you to setup chores and lets your children earn money for the task they complete. It is great for all ages and can be designed any way you choose. For steps to complete the design in the photo above click the link below.
5. Chore Chart in a Jar
This is another simple chart to make and is great for all ages. You can change the design up to add your own touch and even use creative ways to get your children to do the chores.
Tip: Turn the sticks upside down and allow your children to pick a chore (like drawing straws) that way they pick different chores random instead of always trying to pick the easy ones. 🙂
Conclusion
From dry erase to magnetic, flip charts, simple checklists to photos and pictures, there's a chore chart for everyone! You just have to decide which one is appropriate and fits all your families needs. Remember, using chore charts are a great chance to teach your children responsibilities and reward them for a job well done.
Make this experience as fun and simple for you and your family as possible. The more help you get around the house, the less stressed you will be. It will help you all to better manage your time and your children will be grateful you taught them this when they are older.
So what do you think? Do you think chore charts are something your family could use? Do any of these designs seem appropriate for your children?
If you are using chore charts I would love to hear about it in the comments section below. If you have any tips you would like to share please feel free to do so. As always, any feedback is always welcome!