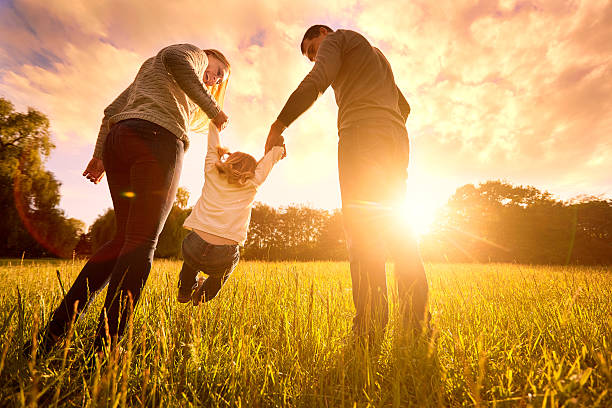 Children, as they say, "are our future", but how well does everyone believe that or how well do they ensure their children has the tools they need to be prepared for their future. I believe in order for children to have a good start in life, we as parents must take the time to teach them healthy, profitable tips while they are young. This contributed post is amazing because it provides some useful suggestions to help us parents make use of the time we spend with our children. 
At the start of life, your child gets matters more than many parents realize. Of course, all parents want the best for their children, but that doesn't necessarily mean that they have a full understanding of why those early childhood years matter quite as much as they do. There's no harm in learning more about your role as a parent and the impact that role has on your child. Here are just some of the issues relating to this that you should think about more.
Health Tendencies in Childhood Usually Hold True for Life
This is perhaps the most striking way in which you as a parent can help your child put good practices in place for life. It's been found that the eating habits and health tendencies that children develop when they're young hold true for life. So if you can get help them stay active, get fit and eat relatively healthily, you'll be doing them a huge favor that'll help for years to come.
It's All About the Basics of Protection and Care
There are some basic acts of protection and care that your child needs from you, and that's what matters most when you're doing your duties as a parent. This means spending money but that's worth it if it gives them a good start. Buying them better food when you head to the supermarket each week or choosing the best and warmest winter clothes at Nickis. Simply keeping them safe is something no parent should get wrong.
You're the Single Biggest Influence in Your Child's Life
No matter what anyone thinks or tells you, you're the person who will have the biggest impact on your child and their development. No teacher or friend or relative ever has the same influence on a child that the parents have. It's something that might seem obvious to point out but you need to keep it in mind whenever you do something that might rub off on them later on. Be the kind of role model your child deserves.
Schools Do Important Work, But Learning at Home Matters Just as Much
Too many parents think that they only need to care for their child in the ways that don't get covered at school. Of course, all forms of care are important, but learning is not something that only happens at school. Children who have parents that read to them from a very early age tend to have higher levels of educational attainment. That's just one example of how fun learning can and should happen at home. It shouldn't cause you too many problems to do simple things like that.
All in all, it's pretty clear that your child's start in life is very important. In many instances, this will be the thing that determines how their path in life plays out. Don't assume that you can ignore the science and studies that underlay that fact because it won't be in the best interests of your child for you to do so.
Conclusion
Children's future success is directly affected not just by the environment we send them off to but the ones we create at home. Healthy habits begin at home so it is important to teach our children how to eat by buying them foods important to their well being while they are young. 
I think our children look to us for protection and their basic needs. Everything we do now to provide for our children will help or affect them later. I agree that we must keep our children safe at all cost and this is something we should never get wrong. 
Have you ever noticed how your children may copy you? Like your daughter may try to wear makeup or your son may like the same football team as his dad. We as parents, have a big influence on our children, but do you want to have the wrong influence? Being a role model or an example, as I always say, is very important to your children, we shouldn't leave that up to actors or basketball stars.
Our children learn a lot of things from us before they even enter school. They hear their parents voice from the womb and we are the first ones to have a conversation with them. So we are our children's most important teachers.
Our children are very important so let us be the best role models we can be and help them prepare for the future.
Do you have tips you use to ensure your child will have a good start in life? Please share your experiences below.