Make your home more festive and cheerful with this list of easy to make Christmas decorations. The holidays are a time of joy but for a mother, it can be a time of stress. Save some money in your pocket by making your own decorations. You can also use this as a time to relieve some of that needed holiday stress or bond with your children. Whatever the reason I hope you find something you will love on this list.
Ice Lanterns
When you think of Christmas you think of snow, right? Some of us don't all get it during this time of year, but decorating the home with items that give it that winter feel is a plus. So when I saw these Ice Lanterns I fell in love.  These are simple to make with only plastic containers and water. Don't believe me? Get the tutorial at HGTV.
Design courtesy of HGTV.com from Marian Parsons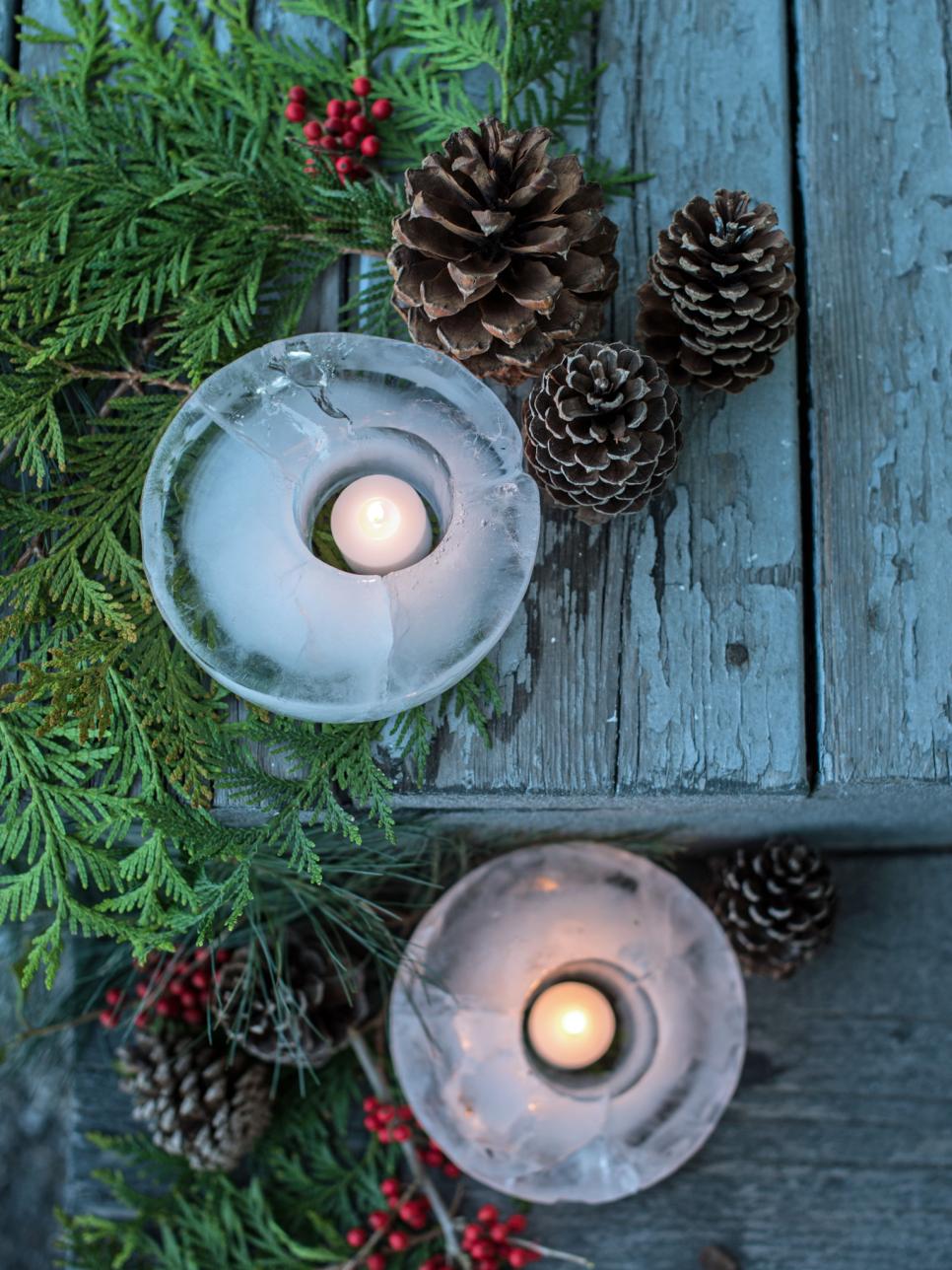 Things you'll need:
water
medium to large plastic containers
plastic cups
evergreen sprigs and/or winter berries (optional)
tea lights/pillar candles
lighter
Christmas Tree Mason Jar Motive
Mason Jars crafts are always a simple and great way to make great designs and these Christmas tree jars are no exception. They are easy and will make great lanterns to light the house at night. Get the tutorial at Mason Jar Crafts Love. 
Things you'll need:
Mason Jar Quarts(Pints & Quarts)
Red Chalky Paint & Green Chalky Paint
Painter's Tape
Christmas Tree Stencil (you can download here)
Scissors
Paint Brush
Epsom Salt & Epsom Salt
White Jingle Bells
Baker's Twine
Scrabble Ornament
This Christmas decoration is very unique and you may have the material you need laying around right now. Do you have an old scrabble game you don't use anymore? Well now is your chance to do something with it. Get the tutorial on Things that are Pretty.
Things you'll need:
Scrabble tiles (pulled out of an old game purchased at a yard sale)
Thin jewelry wire
Beads
Jingle bells (also purchased at a yard sale)
Scrapbook paper
Dry adhesive or glue (pictured later)
Tools needed:
Drill
Exacto knife and cutting board
Needle
Awl (or another pointed object)
Scissors
Custom Vintage Christmas Lights
Add some spice to your boring Christmas lights with this festive colored and glitter garland string tutorial and hang them in your home. Get the tutorial from My Sister's Suitcase.
Things you'll need:
Clear Christmas Light Bulbs
DecoArt, Maxx Gloss Paint
Drying area for lights
Gold tinsel wire trim
Hot glue gun
Peppermint Mason Jar Candles
This next project is a great way to have your home smelling like Christmas. If you have extra mason jars you will definitely want to turn them into these peppermint mason jar candles. Not only are they easy to make but they will have your home smelling wonderful. Get the tutorial on A Pumpkin and A Princess.
Things you'll need:
All Natural Soy Candle Wax

Peppermint Oil

Mason Jar

Natural Candle Wick

Tea Light Cups
Snow Globe Terrariums
Snow globes are one of those things I think every child has a memory of from Christmas, at least I do. So when I saw this next project I instantly knew they had to go on this list. In 10 minutes time, you can have beautifully handcrafted snow globes with your own holiday scenes filled with snow that make wonderful decorations. Get the tutorial on Pink Pistachio.
Things you will need:
Apothecary jars (old) – Home Goods and World Market
Snow, trees, and village pieces ($1.00 – $4.00) – Walmart
Mini Lights (100) – Target
Star Ornament
This next item looks like it is made out of wood but is easier than it looks. Get the tutorial on Woman's Day.
Things you'll need:
Faux-bois paper
Scissors
Glitter Galaxy Ornaments
Want some ornaments that are out of this world? This next project has taken a new spin on Christmas ornaments and is very simple to make but you 'd never guess what they use – floor wax. Yes! Get the tutorial on The Swell Designer.
Things you'll need:
Clear Ornaments
Floor Wax
Glitter (You can use Tulip Fashion Glitters)
Cinnamon Scented Pinecones
Place these festive pinecones around your home to add the spicy smell of cinnamon to every room. I love cinnamon pinecones but I love making things hands on (plus I have a pinecone tree in my backyard). If you don't want them scented simply dip them gold or silver paint for a nice festive look. Get the tutorial on RD.
Things you'll need:
Pine cones
Cinnamon essential oil
Baking sheet and foil
Spray bottle
Water
Santa Hat Chair Cover
This next project takes a bit more effort than the others but they are so cute I couldn't turn down putting them on this list. If you have children they would absolutely love sitting at the dinner table once they see these Santa hat chair covers. I mean who wouldn't find some joy looking at these? Get the tutorial on Make-it & Love-it.
Photo Transfer Ornaments
Fill up your Christmas tree with beautiful memories using this easy technique, all you need is some photos and some unfinished wood ornaments. Not only is this a beautiful looking ornament it is a great project you can do with your kids. Get the tutorial on LandeeSee LandeeDo.
Things you'll need:
Wooden craft ornaments
Matte Gel Medium
White craft paint
Christmas images you've had printed on a LASER printer
Foam brushes
Twine
Glitter craft paint (optional)
Sandpaper (optional)
Mason Jar Lid Ornaments
If you have been making mason jar crafts and have a lot of lids you don't use, you might like this next project. This is another simple project that even your children could give you a hand on. Get the tutorial on Clean and Scentsible.
Things you'll need:
Mason jar lid and screw ring (you can buy these in packs in the canning section of any big box or hardware store)
Fabric scraps – I used flannel
Glue gun
Scissors
Twine
Image/Cutout/Sticker to place in the center of the ornament
Conclusion
Decorating is all about your style and sometimes that may be better achieved when you create the items yourself. I hope you enjoyed this list
Have you started decorating already? Do you have any DIY projects that you have already completed? I would love to hear about them.