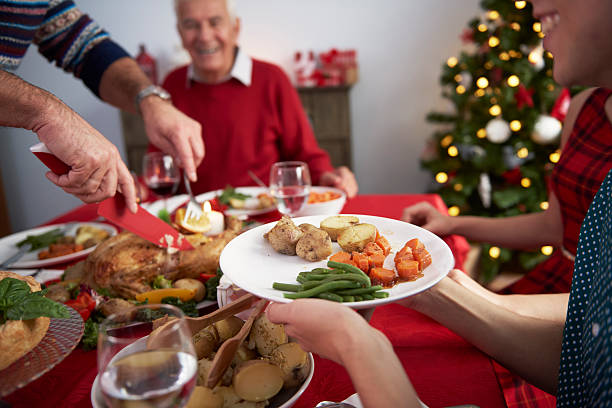 I love to cook but there is one thing I do stress about, making sure I get Christmas dinner on the table. If you are like me you want everything to be perfect and tasty. But Christmas should be a time for you to enjoy with your kids and your family. So let's spend less time cooking with some easy Christmas dinner recipes that will save us time and our families will still enjoy. Ditch the traditional and make some elegant recipes that will help relieve some of that Christmas dinner stress.
Garlic Mashed Potatoes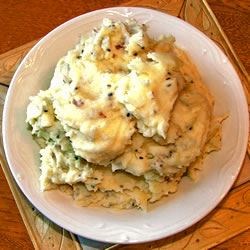 There is nothing more traditional on your plate when it comes to a holiday dinner than mashed potatoes. But who said they had to be boring. These garlic mashed potatoes are not only tasty but creamy and you can use heavy cream instead of milk. Yummy!
A must try for any family that is a mashed potato lover. Give your traditional mashed potatoes a twist and try this recipe.
Get the Recipe at AllRecipes.com.
Pan-Roasted Brussels Sprouts with Bacon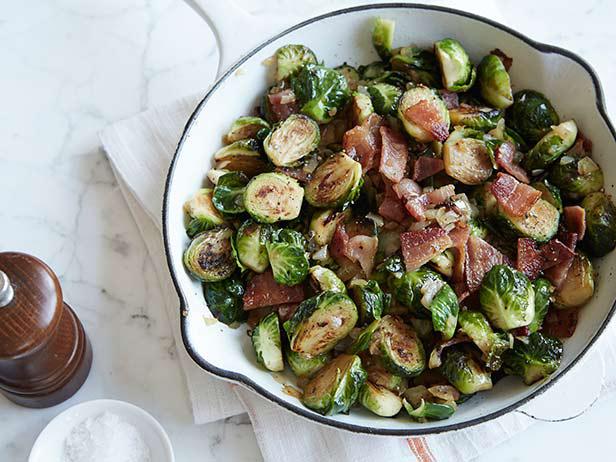 I know what you might be thinking, Brussel sprouts, how will I get my kids to eat those? Well, these aren't your ordinary Brussel sprouts. These babies are roasted in the fat of Bacon and then the bacon is tossed back in at the end.
Bacon makes everything better, right?
Plus this recipe is made by one of my favorite chefs who stars on many of my favorite Food Network shows including The Kitchen.
Get the Recipe at AllRecipes.com
Martini Pork Chops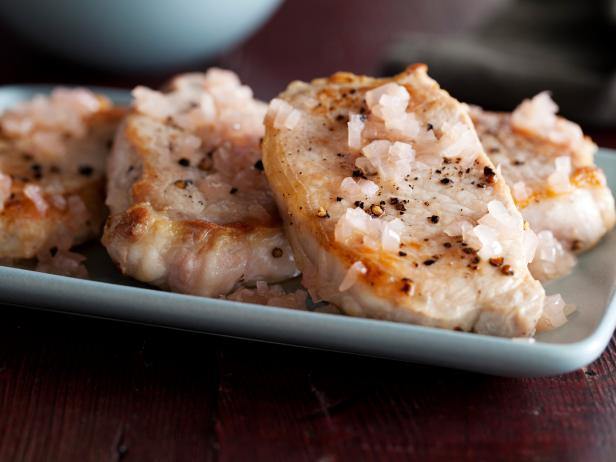 I love a good pork chop and this it is a great substitute for ham, to me anyway. Not only is this recipe tasty but it is very simple. It only requires six ingredients, including salt and pepper. The total time to make this dish from preparation through cooking is 25 minutes. That gives you plenty of time for other things. My kind of dish!
Get the Recipe at CookingChanneltv.com
Sticky Maple Bourbon Chicken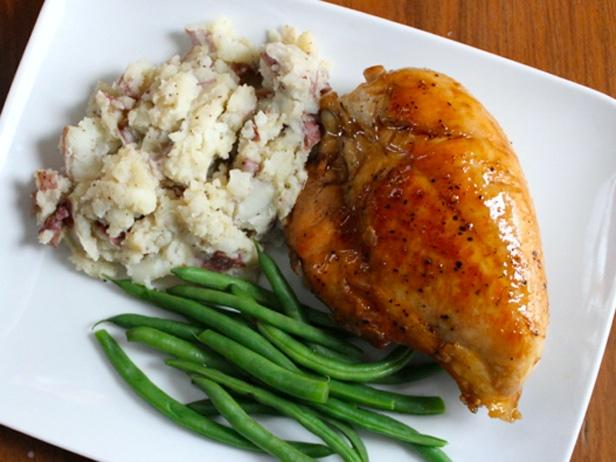 Maple and bourbon, to some they would say this is a match made in heaven and this recipe seems to prove that theory. The "sticky" idea is adding a sweetener to the pan of whatever you are cooking and reducing it as it cooks.
It makes for a simple dish because the ingredients are cooked together in one pan. Saving you time and not skimping on taste.  So save on some of the calories from that ham you had on Thanksgiving and make this delicious chicken recipe.
Get the Recipe at CookingChanneltv.com
Baked Steak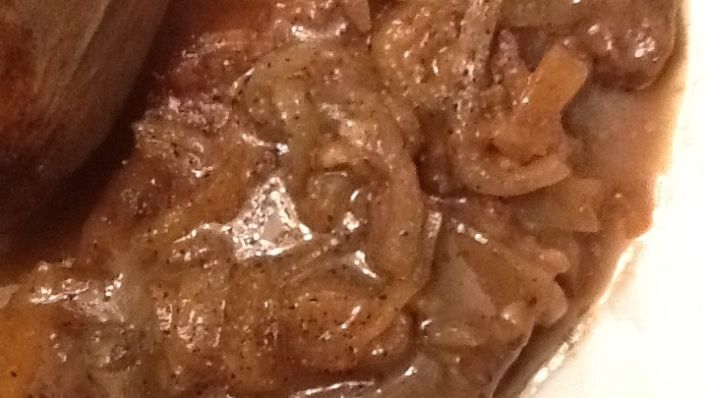 Did I just put a steak recipe on my Christmas recipe list? Yes, I did! Steak is a great substitute for that roast you would love to make but don't have much time for. And this is a great change up from a broiled or grilled steak. The steak is so tender and it makes some delicious gravy that you can put on those Garlic Mashed Potatoes from earlier.
Get the Recipe at GeniusKitchen.com
Orange and Cumin Leg of Lamb with Roasted Tomatoes and Garlic
Lamb may seem like something that would take a bit of time but this recipe is simple and the colors make it look festive. The recipe is for a family of eight but is said to leave you leftovers.
Total time from prep to cooking is 2 hours and 15 minutes so this can be done early enough to allow the rest of the day for play time.
Get the Recipe at WomansDay.com
German Potato Salad Brats
A change up from the traditional potato salad, German potato salad has more of vinegary tang. But have you ever had German potato salad on your brats? OMG, it is so delicious! I have put all types of potato salad on my brats as a child, but the German potato salad vinegar taste goes great with this sausage.
Get the Recipe at WomansDay.com
Mexican-Glazed Meatloaves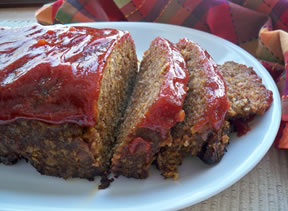 Try this twist on traditional meatloaf with a Mexican flair with ingredients like salsa, taco seasoning, and tortilla chips. Not only is this recipe delicious it will have your family wanting the recipe.
Get the Recipe at RecipeTips.com
Potato Gratin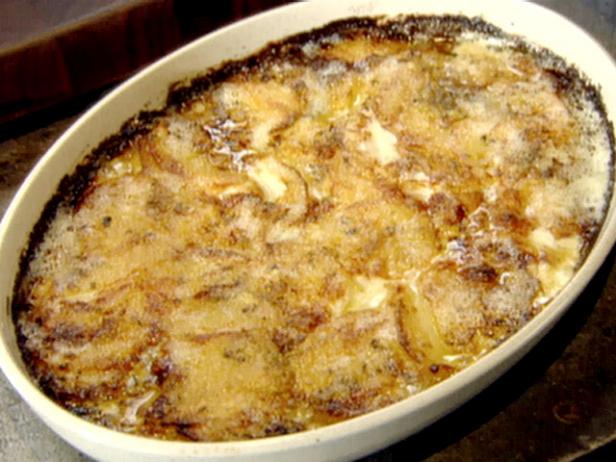 Maybe you would like a simple easy recipe that lets you get away from the mashed potatoes this year. The gratin is a widespread cooking technique where ingredients are topped with a browned crust, often using breadcrumbs, grated cheese, eggs and/or butter. This potato gratin recipe is a favorite among children, I think because of the cheese.
Prep time is only 20 minutes and it only takes 40 minutes to cook.
Get the Recipe at FoodNetwork.com
Ring Around the Rolls With Cheese Fondue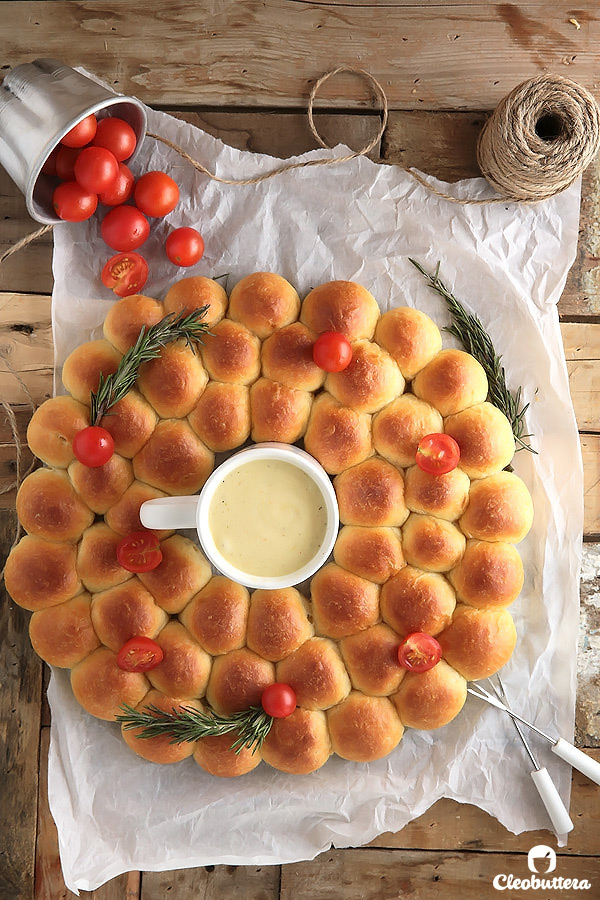 Boring Christmas dinner rolls? Not in your house! This recipe is great for Christmas family get-togethers and who doesn't love cheese. Okay some of us don't and some of us can't have it. But for those who love cheese and better yet, fondue, this recipe will be a hit.
Fluffy dinner rolls baked in a ring that is bite size so the little ones can enjoy it too. Even if you don't have a fondue maker you can still put this together.
Plus the shape of this looks like a Christmas wreath and you can spice it up to make it look very festive on your dinner table.
Get the Recipe at CleoButtera.com
Apple Cider Glazed Pork Chops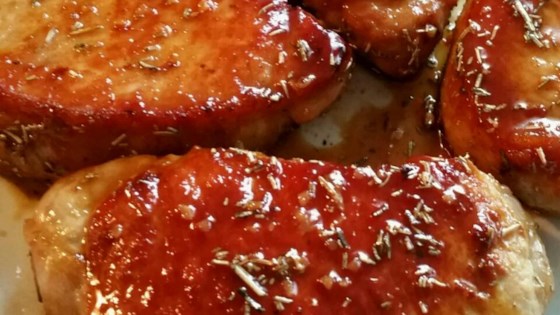 Apple cider is one of my families favorite holiday drinks so this recipe is perfect for Christmas dinner. It is really easy to make and very tasty. In 45 minutes you can have this on your dinner table and get back to the festivities.
Get the Recipe at AllRecipes.com

Spicy Cranberry Barbecue Meatballs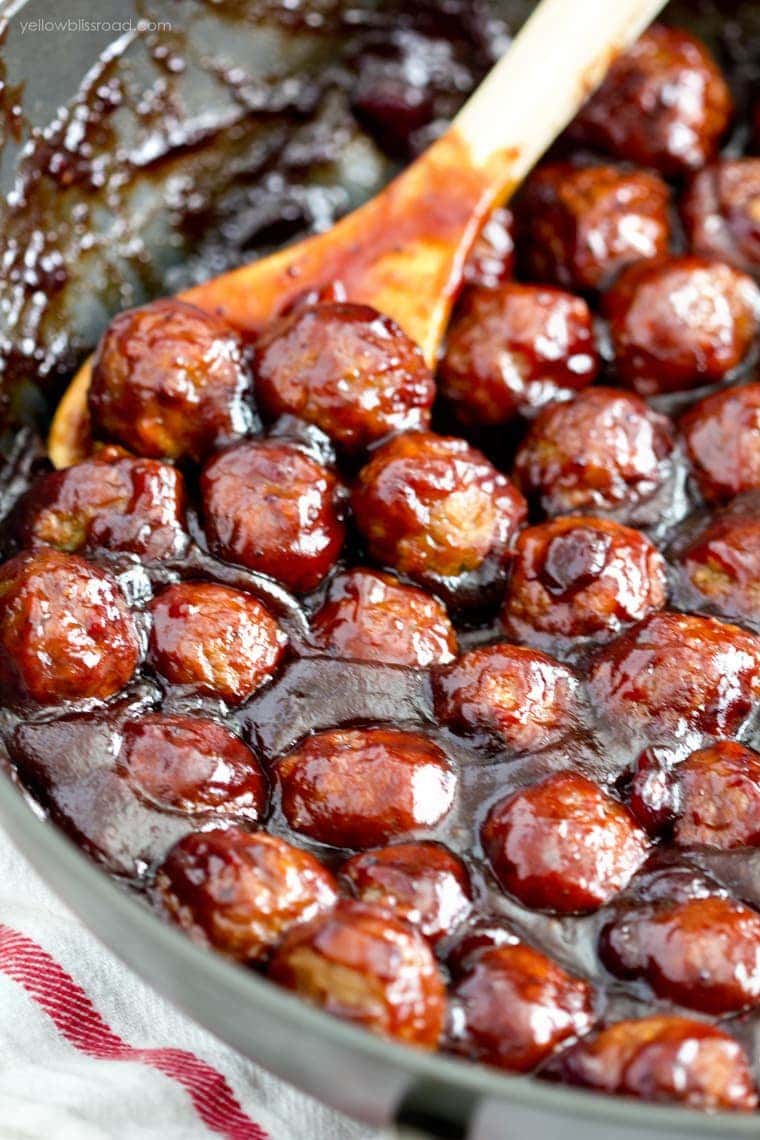 If there are two things my family loves that is definitely barbeque and meatballs. So putting them together naturally sounds like something I would love to serve my family.
This spicy cranberry recipe is not only right up there with the holiday flavors but it is easy to make. The total time to get these on your table is only 20 minutes. Now I don't know may recipes that are this tasty and takes that little of time. Three simple ingredients and your family will love them.
Get this Recipe at YellowBlissRoad.com
Creamy Swiss Chicken Bake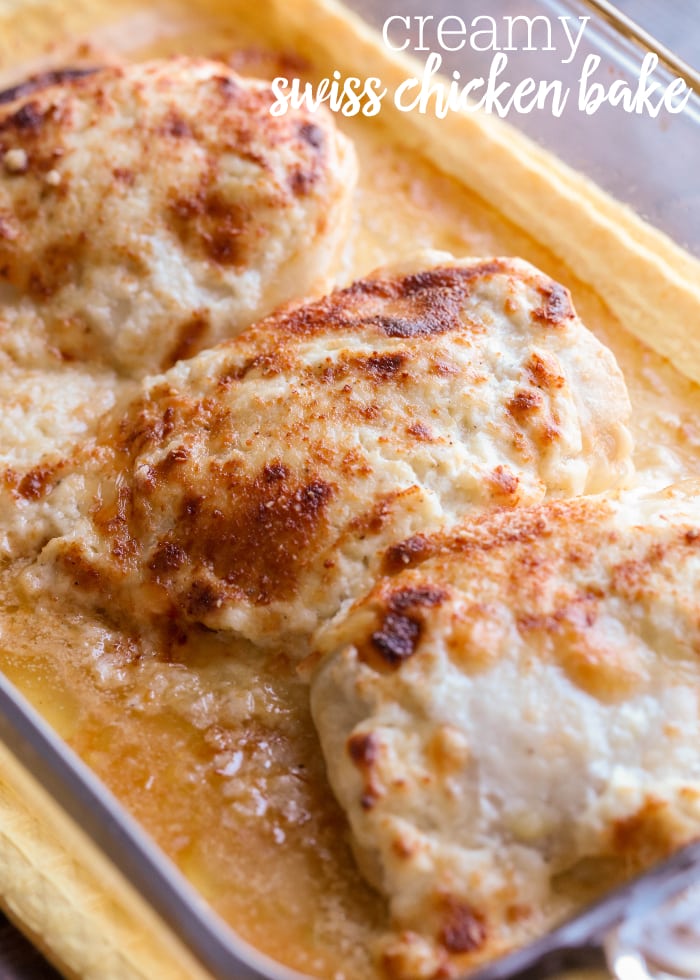 If you want an easy recipe this has to be one of the easiest. And who doesn't love an easy recipe that you can put together and throw in the oven? I know I do. But don't worry, with this creamy swiss chicken bake you will not be giving up on taste.
Get the Recipe at LilLuna.com
One Pot Pea and Bacon Pasta
This recipe is titled one pot for a reason. You only use one pot to make this dish from start to finish, even the pasta gets cooked right in the sauce. With bacon and cheese, you can't go wrong. My son loves pasta dishes and this is something you can put together and have time for some great main dishes. It takes 15 minutes to get this on your table.
Get this Recipe at TastyKitchen.com.
Gruyère, Ham and Spinach Strata
This recipe is easy but does take some preparation ahead of time as well as refrigeration of the product, so you must make it the day before. It is similar to a frittata because it is made with bread, eggs, and cheese, and your choice of vegetables and meats. Spinach and ham is a very popular combination and this is made with gruyere cheese.
It only takes 30 minutes to put the dish together and then you must cover it and put it in the refrigerator for 8 hours up to one day before cooking. It only bakes for 45 to 55 minutes so it is still a very simple dish to complete.
Get the Recipe at HomemadeInterest.com.
Conclusion
I love the holidays because of the time I get to spend with my family and though cooking can be time-consuming it is still something I enjoy. Saving time is always something welcomed in my home because not only does it help relieve some of my stress it gives me time to do other needed things.
Don't let yourself get consumed this Christmas with dinner. Take a step away from the traditional recipes and try some easy recipes so that you can enjoy the holiday too!
Do any of these recipes look like something your family would love? Do you have an easy Christmas recipe you would love to share? Feel free to comment below and have a Happy Holiday!