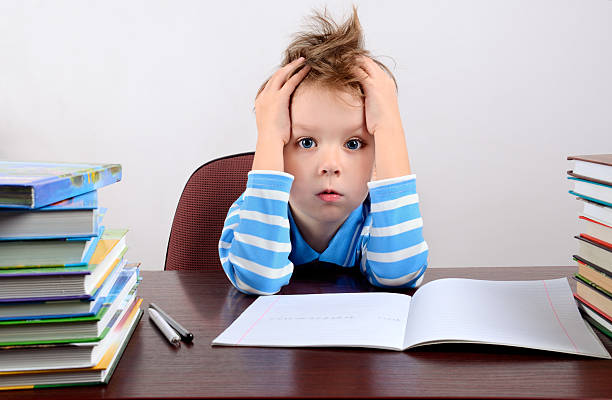 From grades to bullies, children today have many reasons to become stressed during school. However, one of the most common school-related stressors is homework but does homework cause stress in our children or are they trying to skip out on their school responsibilities.
Sadly the answer is yes!
How Does Homework Cause Stress?
The school curriculum is becoming a lot more fast-paced than it was generations ago. There is a lot more for our children to learn and higher learning is being taught at earlier levels to accommodate for time. So younger children are now having to deal with the stress of homework due to the pressure placed on them.
The amount of information our children are required to learn is changing but the amount of time they have to learn is remaining the same.
No to mention, in elementary schools, things like lunch and recess are being shortened which takes away from children's breaks and doesn't give them time to recuperate to function throughout the rest the day.
Stress is increased when children bring homework that is too difficult to complete. My daughter is in the 3rd grade bringing home algebra problems that she has no idea how to complete.
On top of that, the homework is so complex the amount of time being spent on it is taking longer. This is cutting into children's normal lives. The National Education Association (NEA) and the National PTA (NPTA) suggest that children should spend 10 minutes per grade level on homework per night. But homework goes far beyond that.
Homework and Our Children's Health
Homework can not only affect children mentally but physically. A study was done by Stafford University by education scholar Denis Pope and it stated that homework was considered as a primary source of stress to 56 percent of students. Too much homework can result in a lack of sleep because homework which can take an average of 3 to 4 hours can often cut into children's bedtime and the stress can leave them up at night.The lack of sleep can lead to headaches and exhaustion. The stress can even cause some children to lose weight. Due to the fact that families can be pressed for time, fast food is often chosen as a dinner alternative.
Homework and Our Children's Social Life
One of the things most children look forward to when they finish a school day is their extracurricular activities or time with their family and friends. But due to the large amounts of homework children often do not have the time. Older students may have trouble trying to balance their homework and other responsibilities such as a part-time job. This needed time to relax, and recuperate can leave them even more stressed and feeling isolated.
Homework and Our Children's Grades
I am sure you have heard the expression or even used it yourself, "children are like a sponge". They soak up information in school all day so having too much homework can just burn them out. This can make them slack off when it comes time to do their homework and cause them to depend on their parents to help them(and as parents we more than likely willing). Then their grades slip in school because they depended on your assistance and didn't learn the work themselves.
The Positive Side
Homework isn't all bad. The problem here seems to be the amount. A study completed by Duke University professor Harris Copper showed that students who completed homework did do better in school academically. He also discovered that homework increases traits such as self-discipline, inquisitiveness, positive attitude towards schooling, and independent problem-solving skills.
What Can You Do About It?
As a parent, you don't want to see your children suffer and it doesn't have to be any different when it comes to your children's homework.
One of the first steps a parent can take in helping their child through any situation is to utilize communication. Talk to your children. Ask them questions and let them understand that you will not judge them. Make them feel comfortable to open up to you because they may think you would be disappointed with them if they admit to having trouble with their homework.
Don't enable your children. They are stressed but that doesn't mean you don't want them to try. Just let them know you will do what it takes to assist them.
Discover what is stressing them, it could be the subject they are having trouble understanding or they may have too much work.
Help them establish a homework routine that will help them get organized and relieve some of their stress by managing their time. This way they can get their rest and have time for their free time.
If your child is struggling don't hesitate to contact their teacher. Send an email asking the teacher to explain the material to your child again. When necessary look into getting your child tutoring.
Make sure your child has a designated area in the home to do their work. This needs to be an area free from any distractions such as the TV, siblings, and video games.
Remember not to be too helpful. The purpose of homework is so the teacher can measure whether or not your child is learning the material. So if you give your child the answers you actually are not helping.
Conclusion
As a mother, I never like to see my children in any kind of distress. School is something that is beneficial to my child's future but to think that something as common as homework can be detrimental to their well-being is crazy.
I have spent many different nights on this topic with my children and to think back to what I had to face, I feel deeply for our children.
Homework is something that is supposed to be used as a tool of progression.
Should homework be banned? Is our children's well-being being looked out for? These are questions I would have never thought parents would have asked.
Though homework may be stressing our children, we can try our best to alleviate some of that stress. Talk to your children. Because as mothers we know all too well the effects stress can have on our lives. Don't you want to prevent as much of it from your children's?
Let me know what you think below!