Exercise… something you know you need more of. Either you know you need to do it to lose weight or to improve your health, but did you ever think about exercise as a way to relieve stress? We have heard of many different things by now to help stress, from cold showers to vitamins from essential oils to lotions. But, does exercise help stress relief?
How does exercise help stress relief?
The benefits of exercise for the body has been proven time after time, but exercise also has some stress relieving benefits:
Reduces hormones – Exercise reduces the levels of our stress by producing the hormones cortisol and adrenaline.
Increases endorphins – It stimulates the production of endorphins which is the bodies natural painkiller and mood elevator.
Helps your mood – Exercise can improve your sleep and lower the symptoms of depression and anxiety. As you lose weight our confidence is also improved because we lose weight and are more confident in our new bodies.
Better Health, Less Stress – Regular exercise lowers our blood pressure and prevents illnesses that can lead to stress. New studies show exercise can reduce fatigue and increase energy levels even in people suffering from chronic illnesses.
You know that exercise is good for your body but most of the time you are already are too tired and stressed out to even find the time to do it. Especially as a parent, how do you find the time?
Now that you know you need to exercise, which exercises should you do? No need to worry because exercise is engaging in any physical effort and there are many different exercises you can fit into your schedule to help with your stress. You don't need to spend a lot of time, even 10 minutes a day will do.
Today we will talk about some fun exercises to get you going.
1. Running

First off running can help you burn those extra calories you have been wanting to shed, a 120-pound person burns 11.4 calories per minute. Running is like a fountain of youth because it helps slow down aging. It is a change of scenery because it gets you outside into the fresh air allowing you to take it all in.
It is a nice break for some of us mothers allowing us to get away and get some "me" time. As you shed those pounds it gives you a new confidence. However, it is not always easy to get out and run so here is another exercise.
2. Aerobic Exercises
Aerobic exercises are defined as any vigorous exercise such as swimming or walking that is designed to strengthen our heart and lungs. There are many different aerobics workout videos you can find anywhere. You can take classes or do them from the comfort of your home. I find this form of exercise easier to work into my schedule because I can even do them with my children.
I get to work out, my children learn healthy habits….Two birds with one stone!
3. Yoga
Yoga relieves stress in many ways. It is great for meditation, posture, and calorie burning. Yoga not only relieves stress but it reduces the symptoms of anxiety naturally. It is a great way to calm your mind through controlled breathing techniques.  Some of the poses are great for your low back.
You can order DVDs and do it from the comfort of your home or take classes.
Learn some poses here.
4. Kickboxing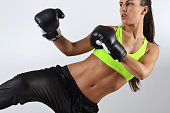 Kickboxing is great for losing weight and it works all the muscles of your body. It is a fun engaging way to relieve stress  It also teaches you coordination, balance, and flexibility. I like it because you can work out your frustrations as you use controlled kicks and punches and you burn a lot of calories. This is another exercise that is available on DVDs for you to practice at home or you can take classes.
5. Tai Chi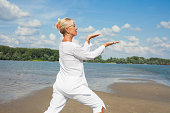 Tai Chi is very similar to Yoga. It is a combination of self-paced, flowing body movements, and breathing techniques.
Tai Chi is actually martially art that was created to help circulation, balance, and alignment. Some of the benefits of doing tai chi are:
it helps build bone density
it lowers blood pressure
it boosts the immune system
It eases symptoms of conditions like heart failure, arthritis, and fibromyalgia
Once you learn Tai Chi you can practice it at home or anywhere you want.
6. Walking
"Going for a walk to clear my head!" A phrase many of us have heard or even used. But, this statement has truth to
it. Walking, whether it be a brisk walk or a jog, has the same benefits of other exercises to relieve stress. Walking allows us to detach our minds and from the pressures of the day. Like getting away before we blow up on our boss.  Or, stepping out giving you time to think straight and come back with a changed mind.
As a parent this has often been mentioned as a way to reduce anger, just go for a walk and come back when your mind is calm.
It can keep us from saying things we don't mean when we are in a stressed argument. So, when you want to go for that walk don't feel guilty, do just that. You are doing your body a favor.
7. Dancing
Dancing, not something we are all good at. And, not something we may want to do in front of everyone. OK, not me anyway. However, like all exercises dancing provides the same benefits for reducing stress.
Dancing involves all kinds of music (practically everyone listens to music) and can be very fun. It allows you to express yourself in your own way. Choreographed danced help with the memory function which is helpful with elderly and those who suffer from dementia. There are many forms of dancing, some include:
Belly dancing
Salsa dancing
Hip-hop dancing
Latin dancing
Ballroom dancing
Clogging
Tap dancing
Ballet dancing
Dancing works all the muscles in your bodies and burns a lot of calories. It is a great way to lose weight. You can take classes or use workout DVDs right in the comfort of your living room. Dance classes help you build a new confidence because you have to open yourself up in front of others.
Conclusion
So as you can see, exercise is a great way to naturally relieve stress. You are not limited to what you choose. Remember that stress cause health problems such as;
high blood pressure
heart disease
obesity
diabetes
Take measures today to help prevent further problems in the future.
If you have any comments please feel free to leave them below, any feedback is welcome!