Valentine's Day is a time where most of us celebrate with whatever traditions we may have. Maybe we buy our loved ones and children candy. Maybe you like to be wooed over by chocolates and flowers. Whatever way you celebrate Valentine's Day, you can't deny that chocolate seems to play a big part. But if you know from one of my previous post on Foods that Reduce Stress, Dark chocolate is great for reducing stress. So why not put on your apron, get your kids in the kitchen, and make some delicious chocolate recipes for Valentine's day that you can enjoy together and help lower some of your stress levels?
Check out some of these recipes that combine the tastiness of chocolate and make a great Valentine's holiday treat. You can even make some of them and give them as gifts to others.
Chocolate Truffle Cake
Image source: LivinTheCrunchyLife
I am not sure if you are like me but there is something just so dreamy about chocolate truffles. They are so creamy and delicious! So you think I would pass up the opportunity to show you a chocolate truffle cake? No way! You get the moistness of a browny with the taste of a truffle. Click Here to Get The Recipe!
Molten Chocolate Lava Cakes
Image source: LiveWellBakeOften
Oh my goodness! If you haven't tried lava cake you don't know what you are missing. Just imagine taking your fork and diving into a nice moist cake and out comes something warm and gooey. Put some ice cream on top and this is what you get! Click Here to Get The Recipe!
Red-Hot Velvet Brownies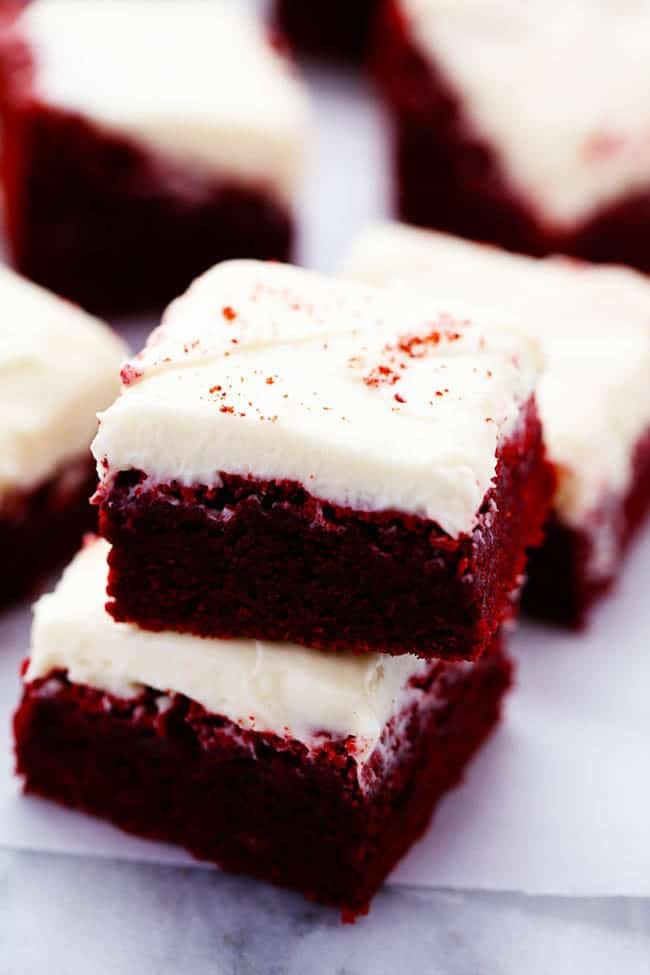 Image source: TheRecipeCritic
Nothing screams Valentine's Day more than some red velvet. But why go the traditional red velvet cake route when you can make some red velvet brownies? Click Here to Get the Recipe!
Valentine's Day Sugar Cookies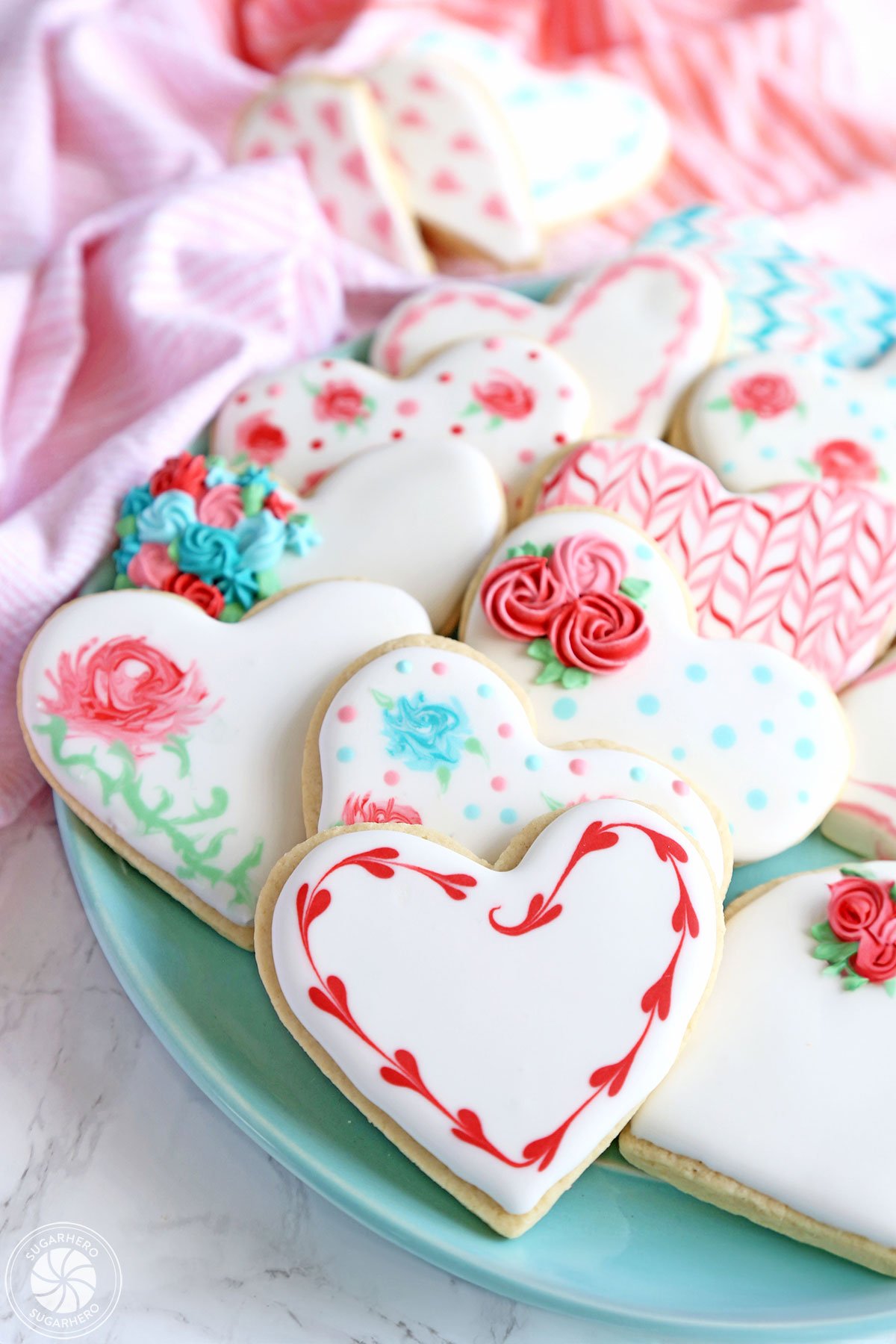 Image source: SugarHero
This is not a chocolate recipe, I know, but I couldn't leave it off. When it comes to holiday baking there is one cookie you can't go wrong with, that is the sugar cookie. It can be cut into any shape you like and decorated however you desire. These little cookies are simple but very delicious.These cookies from SugarHero are so pretty you may not want to eat them and the recipe is easier than it looks. Click Here to Get The Recipe!
Red Velvet Cheesecake
Image source: TasteofHome
Red Velvet, Red Velvet, Red Velvet! Oh, did I mention Red Velvet, Lol! Okay, I admit I gave you a Red Velvet Recipe already but, first off, red velvet is the perfect color for Valentines Day, and second, it is chocolate! Who doesn't love a good cheesecake and this red velvet cheesecake is to live for. Click Here to Get The Recipe!
Triple Chocolate Layer Cake
Image source: SallysBakingAddiction
Now I love chocolate and I love cake, so this recipe has the perfect amount of both. This isn't for the faint of heart! Click Here to Get The Recipe!
Chocolate Fondue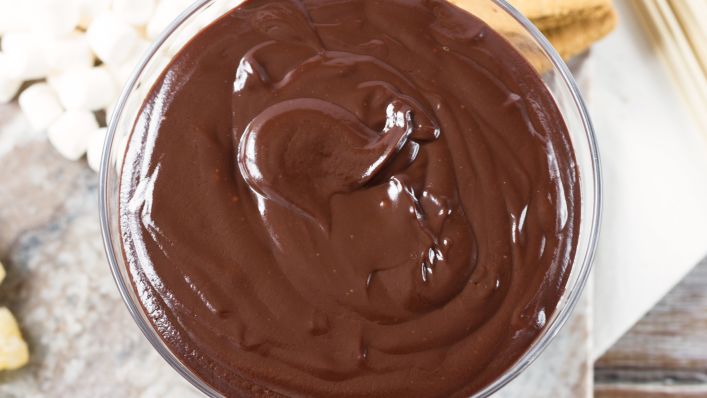 Image source: GeniusKitchen
What is better than fondue? Well, a chocolate fondue of course! Yummy ooey gooey melted chocolate just waiting for you to dip something in it. But not your fingers though! Click Here to Get The Recipe!
Chocolate Covered Strawberries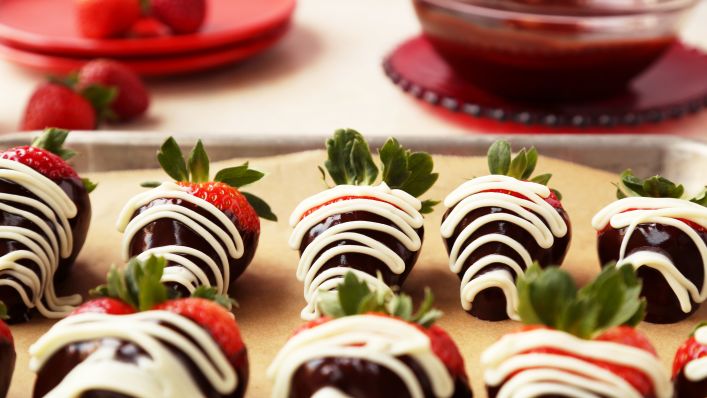 Image source: GeniusKitchen
You had to see this coming! Nothing is more romantic than sharing chocolate covered strawberries with your partner, okay I can think of more romantic things. But chocolate and strawberries just go so good together so why not treat yourself to some and have the satisfaction that you made them? Click Here for The Recipe!
Double-Chocolate Sandwich Cookies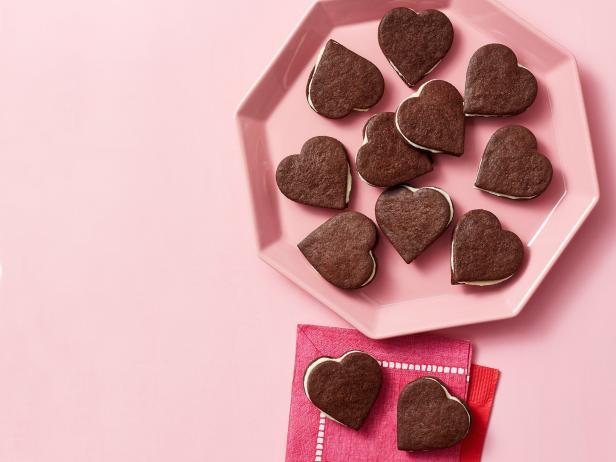 Image source: FoodNetwork
What is better than one cookie? Nope, not two cookies, but a double-chocolate cookie sandwich! Two heads are better than one right, so putting two cookies together to form one always taste better. Put a nice cream filling in the middle and you won't each just one. Click Here to Get The Recipe!
Mini Chocolate Ganache Cupcakes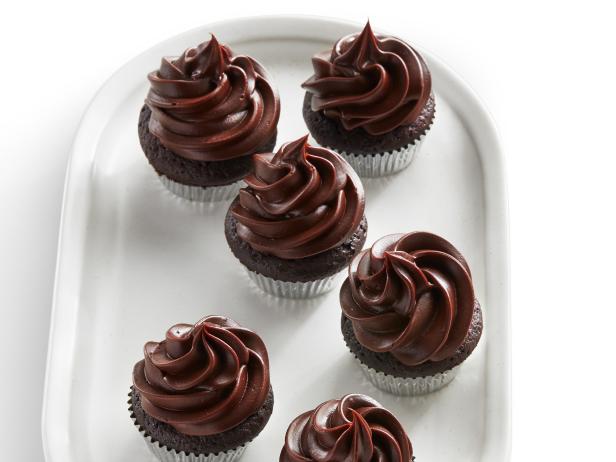 Image source: FoodNetwork
Cupcakes are always a great treat so I love looking for fun cupcake recipes. They are easy for children to eat and are just the right amount of cake for an individual snack. They are much easier to make than a cake and you can icing and decorate them any way you like. So this recipe is a perfect little simple treat for Valentine's day. Click Here to Get The Recipe!
Tripple Chocolate Pudding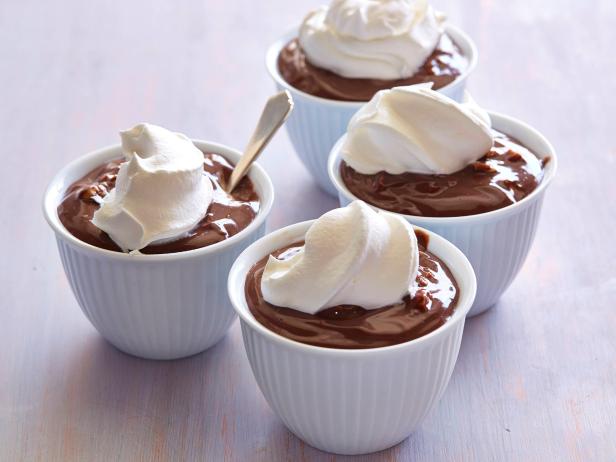 Image source: FoodNetwork
There is something about pudding that is so relaxing. Maybe it is the creamy smooth texture that melts in your mouth or maybe it is the cold feeling that reminds you of ice cream. Whatever it may be, pudding makes a very simple yet delicious treat. Plus, kids will love this one as well. Click Here to Get The Recipe!
Love and Kisses Cookies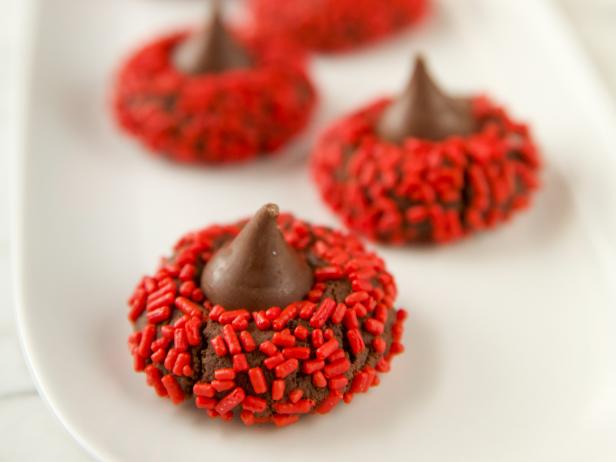 Image source: FoodNetwork
I love Hershey kisses, though I don't eat them as often as I did as a kid, so I thought these cookies were cute and perfect for Valentine's Day. Click Here to Get the Recipe!
Valentine's Cocoa Angel Cake

Image source: MidwestLiving
I love the texture of angel food cake. It is so light and fluffy so I was intrigued to find a chocolate angel food cake recipe for Valentine's Day. I couldn't imagine two of my favorite desserts together but here they are.
Conclusion
I love Valentines Day because it is just another day for me to spend with my family, not that I should ever need one. I love chocolate but not all chocolate is created equally so I still watch how much I eat.
Dark chocolate provides many benefits such as the ability to lower the risk of heart disease and lower your cholesterol. It can reduce stress and lower your blood pressure. But you have to remember that the sugar is not good for you so that is why Dark chocolate is the better choice of all the chocolates.
All things in moderation!
Do you celebrate Valentine's Day? If so what are your plans and is chocolate included in those plans? Share your experiences and feel free to share a favorite recipe below.