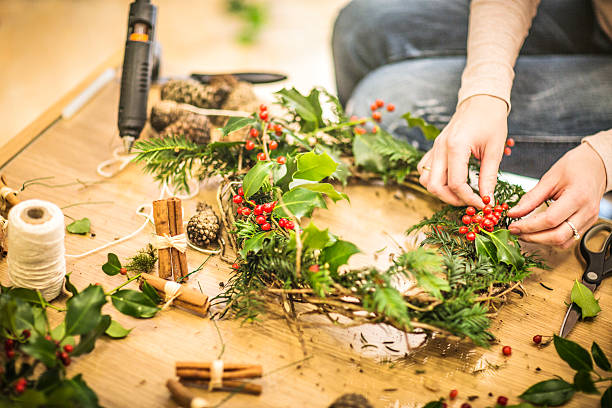 Transforming your home into a festive elegant gathering for your family can be a delightful experience but balancing it with caring for your home can make that time a bit stressful. However, there are many different items to use to spruce up your home to lift the holiday spirit and help you celebrate the holidays. Sometimes DIY projects can be a bit intimidating and when it comes to finding the right items it may be a costly as well. So if you don't have a lot of time or money we have provided a list of cheap easy Christmas decorating ideas that may be just right for you.
1. Mantel Piece
Your fireplace mantel is the focal point of your living room so decorating your mantel is an easy way to not only make your living room look nice and festive for the holidays but bring a new style to your home.
Start with a clean slate. Clear everything from your mantel. Then choose whatever greens you want to use, like a wreath or garlands.
Choose your candles, lights, etc and stick to one theme(ie. a Santa Claus theme). I like to do snowflakes and even hang some from my ceiling. Then as a finishing touch add your stockings.
2. Christmas Cards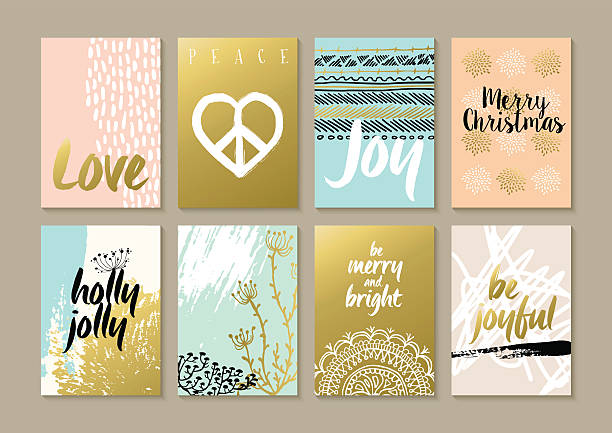 I love giving cards to others for holidays but I don't always love getting them, forgive me for saying. The reason being, they are so heartfelt and beautiful but I don't like throwing them away. The bad thing is they start to pile up so I found creative ways to keep them around without having to feel guilty about discarding them.
So if your cards are starting to pile up, try a DIY hanging project of your Christmas cards using clothes pins and ribbons. You can hang them on your stairs or make an accent wall. Here are a few DIY ideas:
Christmas Card Garland from Walmart
2. Washi Tape Card Tree from thyme is honey
3. DIY Ornament from SimpleMadePretty
3. Center of Attention
Decorating your table is not complete without a great centerpiece but it doesn't have to be that hard to throw together a nice holiday themed centerpiece. Here are a few easy ideas.
Ornament Centerpiece
You can use leftover ornaments in many different ways as a great centerpiece. Put them in a bowl, on a plate, or on top of a cake dish with candles, lights, branches, and more.
Candle Centerpiece
Candles make great centerpieces and they are very inexpensive. Most of us have them laying around the house already. Here are a few ways you can make use of the candles collecting dust in your cabinet.
Pinecone Candles
I love the smell of pinecones during the holidays. I try to find creative ways to display them around my home but I recently discovered pinecone candles. This is a great DIY project that is inexpensive and easy.
2. Champagne Glass with candles
I have dozens of champagne glasses in my dining set so using them as candle holders has also been my go-to trick. However, during the holidays you can easily spruce up the glasses in many ways to make them the center of attention. Simply turning them upside down and putting mistletoes underneath is just one creative way.
3. Floating Candles
Want an interesting centerpiece that will not only bring awe to your table but wonder? Try floating candles. These guys look amazing and magical at the same time.
Make your own holiday candles, find out how here
Floral Centerpieces
Flowers are usually a goto for many as a centerpiece. You can use fresh flowers to freshen up your home and bring in a type of elegance or you can use artificial flowers. Either way, there are many creative and easy ways you can make a nice holiday centerpiece centered around florals.
Poinsettia Centerpiece
When Christmas is around the Poinsettias roll out. A vase full of these in the middle of your table can make any table feel festive.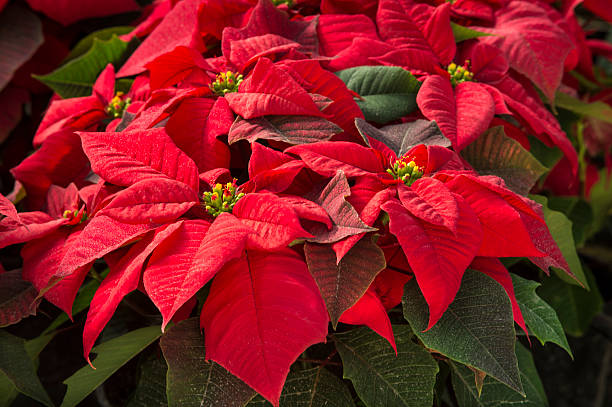 2. Simple Elegant
For this simple elegant centerpiece, you just put some flowers in a vase and surround it with some candles in mason jars and pinecones on a side tray. Not much craft experience needed here.
Take it Outside
Decorating outside is my favorite part of Christmas decorations. It is the first thing everyone sees before they even enter your home. However, it seems to be the most time consuming and expensive. Here are some easy ways to let the holiday cheer spill to the outside of your home for others to enjoy.
Front Entryways
The entryway is a great place to show your creative side. Plus it is the welcoming mat to your home. Here are a few ways to make your door inviting and festive. 
Wreaths
Nothing is more festive than a holiday wreath on the inside or outside of your home. They come in many shapes and forms from pinecones to lights. You can make them yourself or buy them pre-made.
2. Garland
Garland like wreaths, is a very easy and inexpensive way to decorate doorways. It can be used to arch over doorways, wrap around a post, and much more. You can fill them with bows, pinecones, lights, etc. The creation is up to you.
Conclusion
Holiday decorating is a great time to let your creative side shine. It doesn't need to be expensive to be elegant or fancy to be festive. You don't need to the added stress the holidays can already bring. I like to take decorating as the time to fill my home with the holiday spirit and share that time with my family.
Do any of these tips seem like something you would like to try this holiday? Or do you already have a few holiday decorating tricks up your sleeve you would like to share?
I hope you have found this article useful and I wish you a Happy and Stress- Free Holiday!