Yoga is a great way to reduce stress because it helps promote relaxation and after a long day of stress there is nothing more you can use than some relaxation. But if you are new to yoga how do you know what mat to buy. So I have put together a list to help you pick the best yoga mat for beginners.
Choosing the Best Mat
The first thing you may want to look at when buying a mat is whether or not it is a non-slip mat. Since yoga is a type of exercise, you may find yourself sweating onto the mat and slipping. Who wants to slip all over the place, right? You can roll chalk on your new mat to keep from slipping also.
Check your mat for toxins such as PVC, some mats contain it. If you can find natural mats that would be much better and will feel better.
Check out the thickness of the mat. You don't want the mat to be too thick because you may be transporting it. The thicker mats are more for workouts anyway.
Don't be afraid to choose fun colors. You will be spending some time on this mat after all and you do want it to be pleasing to the eyes, right?
So let's take a look at a list of some of the best mat for beginners.
1 Everyday Yoga 5mm Yoga Mat
If you're new to yoga the last thing you want to be doing is having the embarrassment of slipping on your butt in front of others. With a non-slip surface yoga mat, it saves you the embarrassment and prevents injuries. It can also be easily washed in the washing machine.  Available in 12 different colors. Note: Mat may be slippery with first use. Allow one week of use to break in mat's stickiness.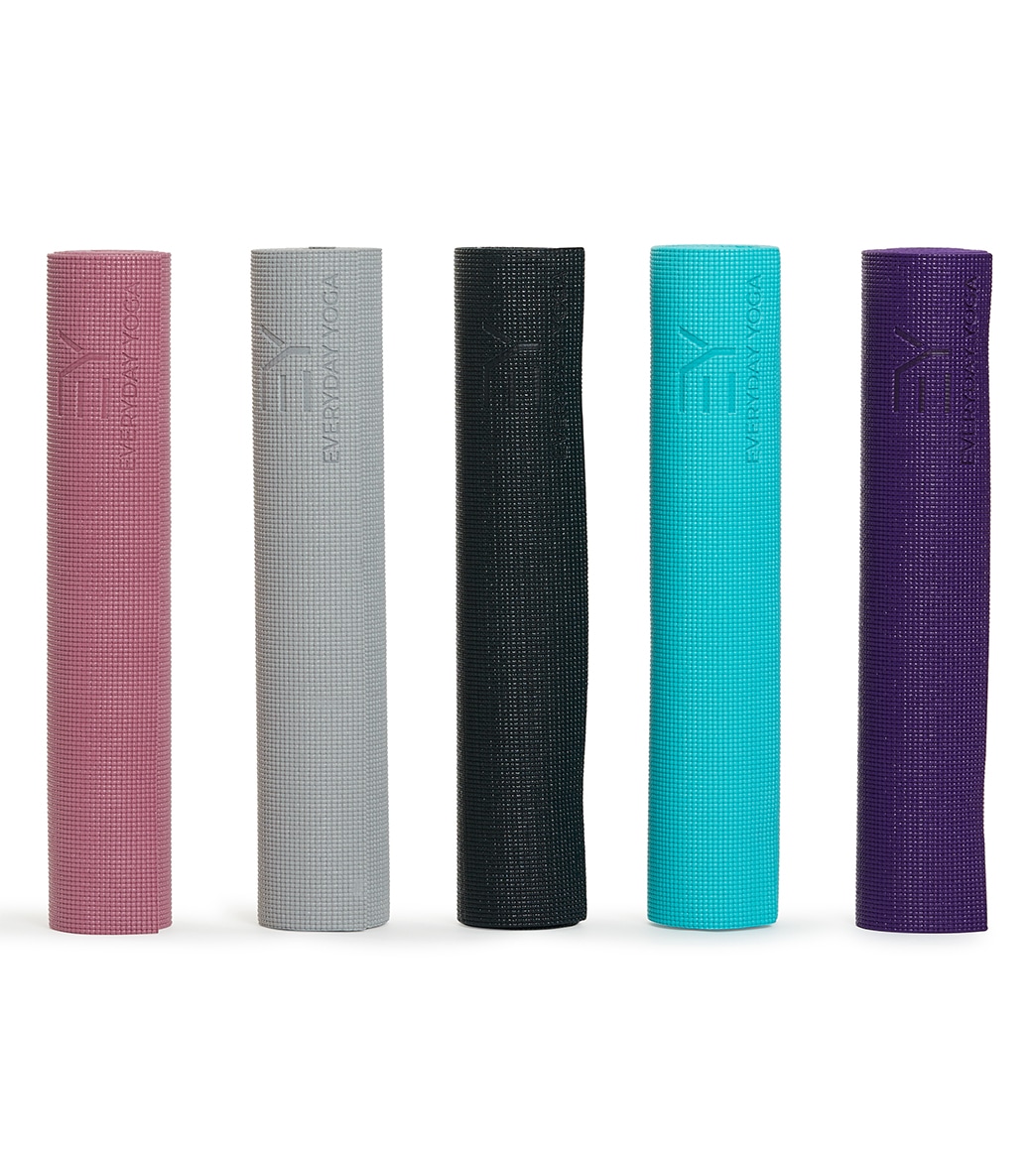 Pros
✔ 100% PVC – Free of 16 phthalates.
✔ Machine Washable
Cons
✔ One customer complained of rolling and unrolling being a hassle do the fact that you can only use one side of the mat.
My Rating: 4.8 out of 5

Best Place to Buy: YogaOutlet.com
2 Manduka eKO Lite Yoga Mat 4mm
If you're a looking for something light, eco-friendly, and biodegradable, then this mat may be perfect for you. Manduka's eKo lite yoga mat is not only light enough to carry with you to your yoga class it is nice and durable. It has a superior grip and a ripple water surface to make sweating not a problem.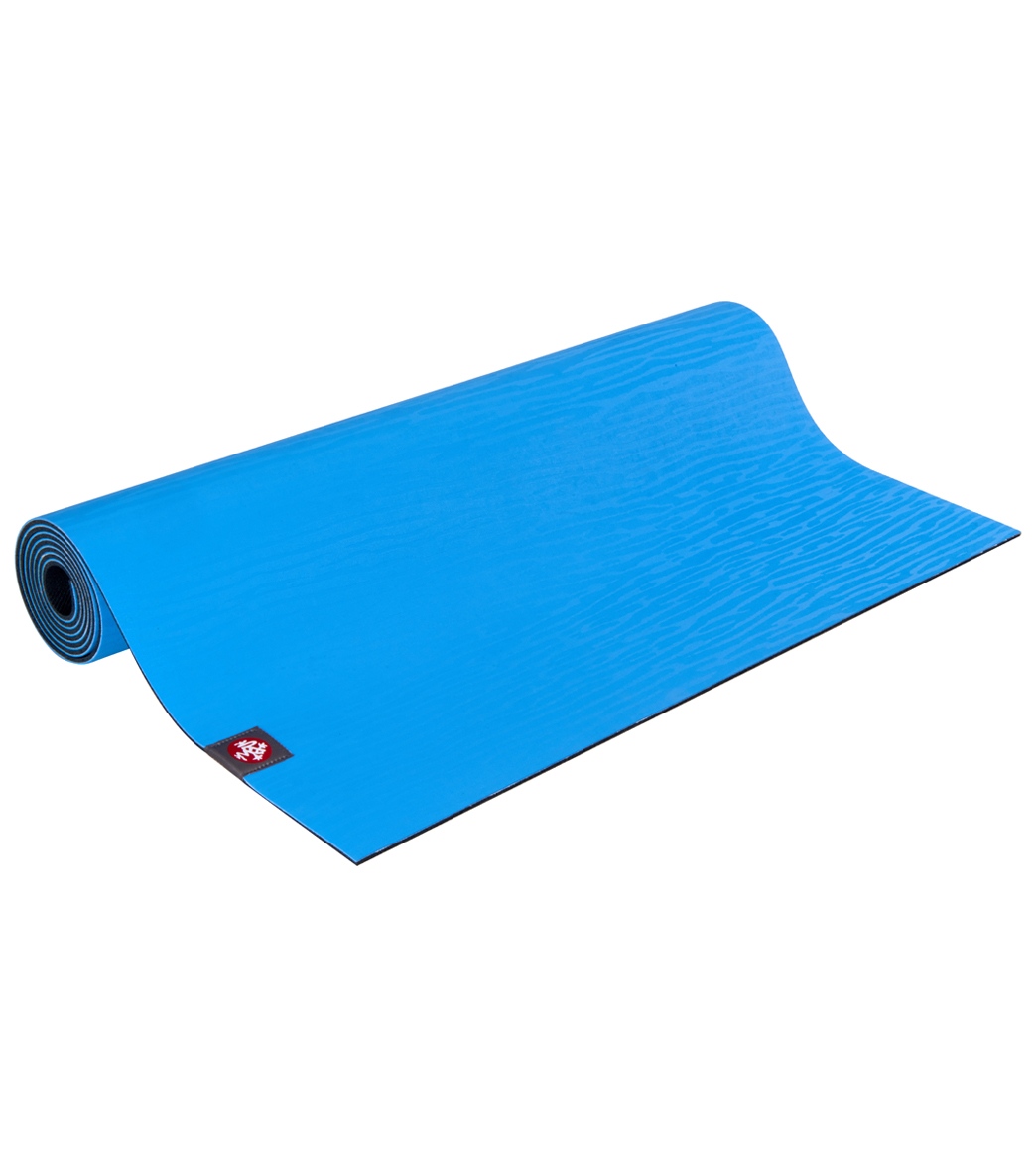 Pros
✔ No PVS or toxic plastics
✔ Durable, eco-friendly and bio-degradable composition
✔ Very comfortable
Cons
✔ Made from natural tree rubber and some complained of its strong rubber smell
✔ Not machine washable
My Rating: 4.5 out of 5
Best Place to Buy: YogaOutlet.com
3 Jade Yoga Harmony Professional (3/16″) Yoga Mat 74″
This mat is a little on the pricey end but for good reason, it was rated among the top 5 best yoga mats on the market. A great non-slippery surface that stays non-slippery even when you have sweated all over it. For every yoga mat that is purchased Jade Yoga plants a tree.
Pros
✔ Stays slip free even when wet
✔ Contains no PVCs or other ozone depleting substances
✔ Natural rubber
Cons
✔ Some customers complained of the rubber smell
My Rating:4.5 out of 5
Best Place to Buy: YogaOutlet.com
Let's Wrap This Up
Pun intended, lol!
Since having a yoga mat is your own sanctuary, finding one that is right for you is important. Although yoga studios are supposed to wash their own mats, having your own ensures your mat is always clean and just the way you like it. Plus, you can make sure you have the right size for your height and pick whatever colors you want.
The durability and grip of the mat will help with your flexibility, strength, and balance during your workout. So I hope you at least have enough knowledge to make a decision as to what type of mat to look for.
So what do you think, do you like any of the mats on my list? Do you have a favorite mat of your own? I would love to hear about it in the comments below. As always any feedback is always welcome.