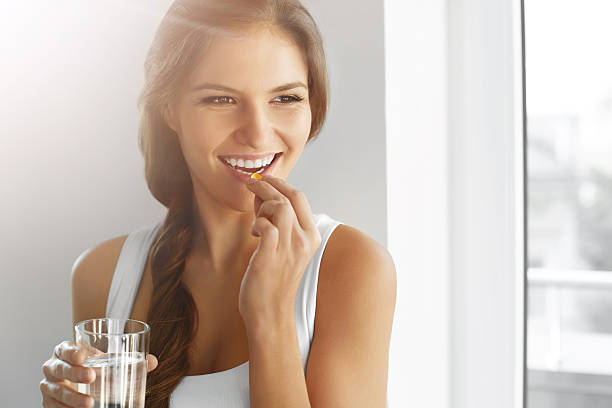 Vitamin C is an important supplement because it helps keep your adrenal gland in tip-top shape. See, our adrenal glands can get overworked from producing so many hormones when you are exposed to so much stress. But with all the different brands to choose from you need to know which vitamin supplement is a good one to try. So I have put together a best vitamin c supplement review to help show you some of the top rated brands available.
Now before we get into those brands let's first talk about some of the benefits of vitamin C and how much you should be taking.
What Are The Benefits of Vitamin C
One of the biggest uses for vitamin C is the boost it gives our immune system against ailments such as the common cold. Though it can not be used as a cure it is thought to be a way to help prevent some of the worse complications that may be caused. You may have been told by your parents or grandparents to drink some orange juice while facing a cold and have noticed how your symptoms seemed to improve faster. That is because Vitamin C can help lessen the duration of your cold symptoms.
Some of the other benefits of vitamin C include:
repairs and regenerates tissues
protects against heart disease
helps in the absorption of iron
decreases total LDL (bad) cholesterol and triglycerides
prevents scurvy
prevents against a variety of cancers
supports healthy immune function
alleviate stress
Vitamin C and Stress
Vitamin C alleviates stress on our body by clearing out the stress hormone cortisol. It also keeps our cortisol levels regulated and keeps our blood pressure from raising when we are met with a stressful situation. So now you know when you are stressed you can grab an orange or a kiwi to help cool you down.
What are the signs of Vitamin C deficiency?
Some of the common signs of vitamin C deficiency include fatigue, muscle weakness, joint and muscle aches, bleeding gums, and leg rashes.  When deficiency has become prolonged it can cause scurvy which is a rare but potentially severe illness.
How much should you take?
Below is a table with the recommended daily amount(RDA) children and adults should take according to the National Institutes of Health (NIH)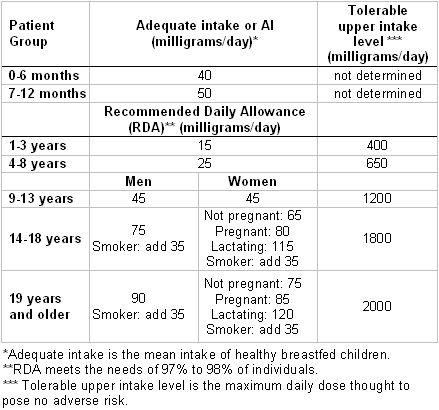 Foods that contain Vitamin C
Vitamin C can be easily obtained through many different foods, fruits, and vegetables including; apples, asparagus, berries, broccoli, cabbage, melon (cantaloupe, honeydew, watermelon), cauliflower, citrus fruits (lemons, limes, oranges), kiwi, fortified foods (breads, grains, cereal), dark leafy greens (kale, spinach), peppers (especially red bell peppers, which have among the highest per-serving vitamin C content), potatoes, and tomatoes.
Best Vitamin C Brands
1. Nature's Way Vitamin C
Nature's way is a brand that has products that are backed by their name. They claim to be passionate about nature and this seems to be true in their products. If you have ever tried a Nature's way vitamin then you may be loyal to their brand.
Their vitamin C capsules come in 1000 mg veg tablets and contain bioflavonoids which are a powerful antioxidant which claims to provide protection and it strengthens collagen and maintains white blood cell function. The company has 50 years of experience on their backs and the rating on this vitamin is one of the highest of have seen. At a 4.8 out of 5, it seems like this company knows what they are doing.
Ingredients: Vitamin C (ascorbic acid), Citrus Bioflavonoid Complex (from lemon, orange, grapefruit, lime, and tangerine) including hesperidin and naringin, plant-derived capsule (hypromellose), magnesium stearate
Pros
Vegan capsules
Gelatin coating makes them easier to swallow
Cons
The only bad thing I found that had any weight was the fact that the bioflavonoids dropped from 600 mg to 50 mg.
---
2. Doctor's Best Vitamin C 
Just because something is supposed to be good for you doesn't mean it may not contain things that aren't good for you. When looking for a good vitamin brand you may want to be sure you don't buy a vitamin supplement with artificial flavors, preservatives, and impurities.
So this next choice, Doctor's Best Vitamin C, has 1000 mg capsules that are vegetarian capsules and there are only 2 ingredients. The company uses a form of vitamin C they call Quali-C that is manufactured in Scotland and is valued for their quality and reliability.
Ingredients: Vitamin C (as Quali-C ascorbic acid), modified cellulose (vegetarian capsule).
Pros
Vegetarian capsules
Cons
A couple customer complained of side effects (headaches and stomach issues)
---
3. Vitafusion Power C Gummies
If you are looking for a vitamin C supplement that you do not have to swallow but don't want a vitamin full of artificial flavors you may like Vitafusion's gummies. They are made of natural orange flavor and contain as much vitamin C as 10 tangerines, 240 mg.
Ingredients: Vitamin C (as Ascorbic Acid and Sodium Ascorbate), Sodium, Glucose Syrup, Sucrose, Water, Gelatin, Beeswax, Citric Acid, Color (Annatto Extract), Fractionated Coconut Oil, Lactic Acid, Natural Flavor.
Caution: Processed in a facility which also processes products containing tree nuts, soy, egg, fish, and shellfish.
Pros
Gummies are easy to chew
They have a great taste
Cons
Gummies have a sugar coating on the outside which many customers complained about
Can get an allergic reaction if you are allergic to nuts, soy, eggs, fish, or shellfish
Conclusion
Getting an adequate amount of vitamin C in your diet is important to the functioning of your body.  But when your diet isn't enough adding a supplement can help, however, choosing the right supplement is very important. Before taking any supplement remember to speak with your healthcare professional. This way your doctor can check your vitamin levels to ensure you take the proper amounts.
If you take some drugs you will need to ask your doctor if it is safe to take a vitamin C supplement especially if you take chemotherapy drugs. Vitamin C can interact with drugs like aspirins, antacids, blood thinners, or acetaminophen, so please let your doctor know if you take any of these.
I already have to take other medications so I try to be as careful as possible when choosing new medications, even supplements. So Doctor's Best makes one of my favorite supplements because it is as close to a natural product as I can get. But remember just because something says it is vegan doesn't mean it doesn't have synthetic ingredients. Always read the label.
Do you have a favorite Vitamin C supplement, not on this list? I would love to hear about it below!