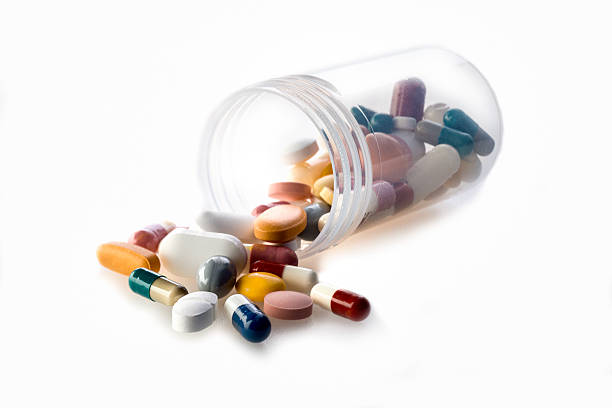 When you are stressed, it may turn out you need more B vitamin in your diet. B vitamins can help with stress by boosting your mood. Some B vitamins are responsible for making neurotransmitters such as serotonin and others are responsible for burning fat and glucose creating energy. So how do you know what is the best vitamin B complex supplements to take? We will take a look at some of the benefits B vitamins can provide as well as the top-rated supplements.
Click here to read more info on the benefits of the B complex vitamins and recommended dosages
Benefits of B Vitamins
B-Vitamins can provide important health benefits to the body, including the potential to:
– Help the body make new cells
– Support red blood cell production and growth
– Aid in fighting free radicals and premature aging
– Help the body regulate the nervous and digestive systems
– Aid in the conversion of food into energy
– Support the natural production of hormones
– Help the body fight infection
– Help cells make and maintain DNA
– Help to reduce the risk of birth defects
Taking a vitamin B complex supplement daily can be used for stress, energy, and a healthy immune system.
What to Look for in a Vitamin
The first thing you want to eliminate is artificial colors and dyes. The second thing is the capsule, capsules will make it easier to swallow versus tablets. Next, you should look for a brand that gives you at least 100 percent of the recommended daily allowance or RDA of all the vitamins. This help ensures you do not become deficient and your body will be at its optimal health. Because B vitamins are water-soluble expect your urine to be darker than normal because they will be excreted through your body.
Now that you have an idea of what to look for, here is a list of the top rated supplements.
Best Vitamin B Complex Supplements
Super B Complex Vitamins – ALL B Vitamins Including B12, B1, B2, B3, B5, B6, B7, B9, Folic Acid  90 Vegetarian Capsules
If you are looking for a vitamin brand that is potent enough to give you the recommended daily value of all the B Vitamins in one capsule than you may want to check out this brand. The pills are easier to swallow than other brands and it does not contain any harmful chemicals, stearates, artificial ingredients, fillers or preservatives. I hate having to take more than one vitamin so taking one and getting 90 in a bottle sounds like a good buy.
Pros
✔ Suitable for vegan and vegetarian diets
✔ Size of the pill is smaller than some vitamins making them easier to swallow
✔  More potent than other vitamins brands
Cons
✔ I couldn't find any complaints
My Rating: 4.9 out of 5
Best Place to Buy: Amazon
---
Nature Made Super B Complex Full Strength Softgel, 60 Count 
I love the nature made brand vitamins for a few reasons. One they are affordable. Another reason they seem to work for me (at least the ones I have tried) so I can't complain about the quality and I guess you can say I trust them because they have a track record. Their Super B Complex contains 100% of the recommended daily value of all the vitamins and they contain no artificial color, flavors, or preservatives.
Pros
✔ More affordable than other vitamins brands
✔ Soft gel pills make them easier to swallow
✔  No artificial colors, flavors, and preservatives
Cons
✔ Some customers complained that they didn't feel a difference using these vitamins
My Rating: 4.5 out of 5
Best Place to Buy: Amazon
---
Bronson Vitamin B Complex Sustained Slow Release (Vitamin B1, B2, B3, B6, B9 – Folic Acid, B12), 100 Tablets
If you are looking to take a sustained slow released vitamin (like if your doctor prescribed them for a certain health ailment) then you may want to check out these Bronson Vitamin B Complex Supplements. Sustained slow release vitamins slowly release the vitamins over a period of time. However, according to the Harvard School of Health, they are no more effective than regular vitamins. According to Columbia University Health Services, the majority of people do not need to constantly take vitamins in contrary to how they are often advertised, and time-release vitamins may also pose potential health risks combined with ineffective results.
Pros
✔ Cause fewer side effects
✔ GMO-free
✔  Coated to swallow easy
Cons
✔ Unless your doctor recommends this vitamin you probably do not need it
My Rating: 4.5 out of 5
Best Place to Buy: Amazon
---
Thorne – Vitamin B Complex for Stress Support – 60 Capsules
This supplement is a great choice if you need a little extra help combating stress. They contain more vitamin B5 than other vitamins to help support the adrenal gland which helps our body fight stress. This supplement is made by a group of MDs, PhDs, and NDs and their products contain natural ingredients.
Pros
✔ Extra B5 for adrenal support(the glands that help your body fight stress)
✔ Soft small gel capsules make them easier to swallow
✔ Flavors, colors, preservatives, and sweeteners derived from natural sources.
Cons
✔ Some customers complained that some capsules received had a smell and were different looking from others they purchased(they had  speckles that did not belong in the capsule)
My Rating: 4.5 out of 5
Best Place to Buy: Amazon
---
Vitafusion B Complex Gummy Vitamins, 70 Count (Pack of 3)
If you hate swallowing pills then this may be your choice. I love gummy vitamins from Vitafusion because they are easy to chew and they taste great, just keep them out of reach of small children.
Pros
✔ More affordable than other vitamins brands
✔ Chewable gummies easy to digest and doesn't upset tummy
✔  No artificial colors, flavors, and preservatives
Cons
✔ The gummies are prone to melting so you have to store them in a cool place
My Rating: 4.9 out of 5
Best Place to Buy: Amazon
---
Conclusion
Those who get the daily recommended allowance of vitamins and eat a healthy diet are still going to face stress but you can still make sure your body is at its optimal peak to reduce stress as well as prevent illnesses. Living healthy is a daily choice that never comes easy and takes dedication.
Make healthy choices by starting with your diet and make sure to get a good dose of exercise every week. Remember to check with your doctor before starting any supplements.
If you have any feedback you would like to share I would love to hear about it below.
Any general advice posted on our blog is for informational purposes only and is not intended to replace or substitute for any medical or other advice. Stressreliefformothers.com makes no representations or warranties and expressly disclaim any and all liability concerning any treatment, action by, or effect on any person following the general information offered or provided within or through the blog. If you have specific concerns or a situation arises in which you require medical advice, you should consult with an appropriately trained and qualified medical services provider.