I always love spending time with my family. We are all very close so having family game night is just an excuse for us to be competitive. I recommend every family to take some time out of the week to have family game nights so they can enjoy that special time together. Plus, the benefits of having a game night are rewarding. Below is a list of the best family fun board games is you want to enjoy a night of togetherness with your family. But first here are some of the reasons you should take a night this week to enjoy a family game night.
Quality time– It is a great time to sit together and bond as a family. It builds communication and gives you time to talk about things you may want to share that you didn't have time for otherwise.
Healthy habits– By spending time together as a family, you are teaching your children to pull themselves away from the television which studies have shown is unhealthy and can lead to things like obesity. You are giving your brains an exercise and may be improving things like memory and focus.
Fun– Playing board games is a time for your family to have fun together, share laughs, and relieve stress. It is always great to have a distraction from everyday life and you can share that together.
Builds memories– Spending fun quality time together as a family always gives you something to look back on, creating healthy memories for you and your children.
Think you don't have time to have a family night. Make the time!
If you have a DVR you can record some of your favorite shows.
Have the kids help with some of the chores to make time.
If you want to have a family night on Saturday, make double dinner Friday.
Beat The Parents
This game is a fun way to get you and your children communicating for sure! It is adults vs. kids which I find so funny. The kids have to answer the question about the parents and the parents about their kids. You move across the board as you compete in this trivia game that includes 101 question cards, 32 Parent Wild Cards, 32 Kid Wild Cards, 4 Mover Pieces, 1 Game Board, and 1 Player Guide. Do you know more than your kids? Buy it here
Pie Face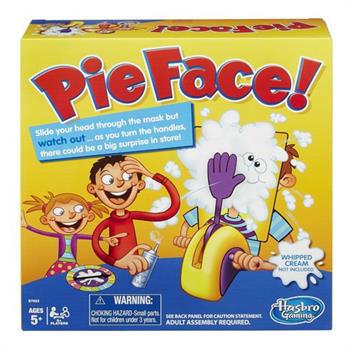 If you are into laughs, you will love this game. It will have you and your kids laughing till you cry. My kids and I love this game! Score a point every time you turn the handle and don't get "splatted" in the face. Are you up for the challenge? Buy it here
Also available in a Despicable Me Minion Edition.
5 Second Rule Jr.
This game is not about dropping food on the floor and eating it so don't worry, LOL! It is gonna make you laugh though. If you know about 5-second rule the adult edition, you will love this Jr. edition. You have to answer questions on a card(questions like name 3 superheroes)but you only have 5 seconds to do it. With a timer ticking away in your face you can be pretty nervous and say some funny things. It includes 400 Questions on 200 Cards, 6 Pawns, 5-Second Twisted Timer, Game Board, Rules. Buy it here
HedBanz
This is a simple and fun fast paced game for any member of your family.  Now everyone can see it but you. It is also an educational game because kids have to use deductive reasoning to come up with answers. Each player has chips and you draw a card from the pile with a category of either food, animal, or common object and place it on your headband. Each person in their turn asks a question about "Who am I?" until you are ready to give an answer. For each correct answer, you get rid of a chip and the first to get rid of all their chips wins. Sounds simple enough? Includes Hedbanz rule sheet, 74 cards, 24 chips, 6 headbands, and sand-clock timer. Buy it here
It also comes in editions like Pokemon and Shopkins.
Monopoly Jr.
If you love Monopoly, then you will love Monopoly Jr. Buy cool properties such as the pet store, the candy store, and the video game arcade. It has simpler rules and easier money transactions so your younger kids can understand and enjoy Monopoly. Includes a game board, 4 tokens, 20 chance cards, 48 sold signs, 90 bank notes, 4 character cards, and 1 die. Buy it here
It also comes in different editions like Disney's Cars and Frozen.
Charades for Kids
My children and I love playing charades, it is a great way to be silly and share laughs. This is a great game if you have small children who can't read yet because players have the opportunity to act out a picture charade on each card. Includes 150 charade cards with 450 charades, game die, sand timer, and rules. Buy it here
Apples to Apples Junior
This is a great game because it is fast-paced fun while also building your children's vocabulary and thinking skills. There are two types of cards, red and green. The green cards contain adjectives (e.g. smelly, goofy, cool). The red cards contain nouns or actions (e.g. spinach, pickles, monkeys). One person acts as the judge, they flip over a green card and reveal the adjective. Everyone else has red cards in their hand, from those cards they have to pick the card they think best fits the word listed on the green card. Everyone places their cards face down and the judge mixes them up then turns them over. The judge then gets to decide which word best fits the adjective. The person whose card is chosen wins the green card. You play until one person reaches a certain number of cards. The person who won the card then acts as the judge the next time. It is fun watching everyone put their choices together and it is a great way to get your children engaged in communication. So do you think you have what it takes to put apples to apples? Includes 576 cards. Buy it here
Jenga
This game brings back so many memories of my childhood. I remember laughing at my Dad pulled out the wrong block and watching the Jenga tower crash to the table. That is why I wanted to share the same experience with my kids. Jenga is as simple as that you build a tower of blocks then you take turns removing a block and stacking them on top making sure you don't make the tower crash. It is a fun simple way to enjoys hours together laughing in healthy fun competition. Includes 54 Jenga hardwood blocks, stacking sleeve with instructions. Buy it here
There is also a giant edition available that stack up to 3 feet.
Connect 4
This game has been around since 1974 and has made its way to apps and video games. Connect 4 is a simple but fun game that takes skill. However gets 4 disks in a row (straight or diagonal)wins. It is classic but it gets the job done! Includes grid, 2 legs, slider bar, 21 red discs, 21 yellow discs, and instructions. Buy it here
Sorry!
Another one of my favorite games to play. Draw cards to see how far you get to move one of your pawns on the board. If you land on a Slide you can zip to the end and bump your opponents' pawns – or your own! Jump over pawns and hide in your Safety zone while getting powers with the 2 power-up tokens. Keep on moving and bumping until you get all three of your pawns from your color Start to your color Home. But watch out, because if you get bumped, Sorry! It's all the way back to Start! Think you can handle the pressure?  Includes gameboard, 12 Sorry! Pawns, 44 cards, 2 power-up tokens, and instructions. Buy it here
---
Conclusion
Whether you in the mood for some laughs or some brain challenging fun, these board games are sure to do the trick. Remember games are a great way to provide distractions which help reduce stress. You help your children get the same benefits by providing distractions from their week of school. It gives you time to bond and communicate and teaches your children healthy habits they can pass on to their kids. A happy home is another benefit and will relieve some of your stress. So take time for you and your family and make a family game night this week and choose one of these best family fun board games for some entertainment.
If you have any memories of your childhood game nights or would like to share another board game, please feel free to do so in the comments. Any feedback is always welcome!