You ever remember giving your children a coloring book and some crayons as a way to keep them busy while you cooked in the kitchen? Or, maybe you were in a restaurant and the waiter brought the children some crayons and a coloring sheet? Well, it turns out that same technique adult have used on children is now being used on adults. Adult coloring books are a great way to distract us from the pressures of life. Before we get into what are the best adult coloring books, let's see a few benefits of coloring.
You are entertaining a meditative state so this gives your brain relief
Your stress and anxiety levels are potentially lowered
Coloring can be done by anyone and you don't have to be an expert artist
It is convenient and it can be done anywhere
So What Makes These Books So Different
Adult coloring books are not the same as the ones we buy for our children. They are much more intricate and come in various themes. The paper is even higher quality allowing you to use different types of mediums. There are books for all levels of difficulties, whatever you are a fan of you can find a book for you.
Creative Haven Creative Cats Coloring Book (Adult Coloring)
My Rating
: 4.7 out of 5
Description:
Definitely for the cat lovers out there! This book contains more than 30 full page portrait of pretty cats.
Pros:
✔ Very detailed backgrounds
✔ You can use Crayons, Colored pencils, Watercolor Pencils, Markers and Gel pens (Note: Use a blank paper between sheets to prevent leaking)
✔ Paper is more durable than other adult coloring books
Cons:
✔ Cat faces are blank and pretty much the same on each design
My Rating: 4.5 out of 5
Description:
If you love owls then you will be this book. It is covered with all kinds of flowers, paisleys, and other fun-to-color patterns. Every owl is posed against vivid backgrounds with its own design. There are over 30 different designs to choose from.
Pros:
✔ Images printed on one side, good for framing
✔ Great to use with crayons, colored pencil, and markers
Cons:
✔ Must use blank sheet between images to keep markers from bleeding through
✔ Some detailed areas are very small and may not be good for those with vision problems or those who have trouble coloring small details.
Creative Haven Entangled Dragonflies Coloring Book (Adult Coloring)
My Rating: 4.9 out of 5
Description:
This book is inspired by Zentangle and is created for the much more experienced colorist. There are thirty-one different designs to choose from with beautiful illustrations of dragonflies in a natural setting. If you like dragonflies you will love to take your tie and work on the pages and create your own works of art that you can frame.
Pros:
✔ Images are printed on one side and perforated for easy removal, great for framing
✔ You can use, crayons, color pencils, and markers
✔ Beautiful and intricate designs
Cons:
✔ There are reported to be some very tiny details that will require a keen eye and fine-tip coloring markers or pencils
✔ A customer reported the perforation on some of the pages to not be finished which caused them to rip a page
Secret Garden Artist's Edition: 20 Drawings to Color and Frame

My Rating: 4.9 out of 5
Best Place to Buy: Amazon.com
Description:
These pages are larger than your average coloring book and have 20 different designs from Johanna Basford's first book, SECRET GARDEN. If you are familiar with the book or if you are just looking for an exotic experience then you may want to look into this coloring book.
Pros:
✔ Thick quality paper
✔ Image printed on one side
✔ You can use markers, crayons, colored pencils, and gel pens.
Cons:
✔ Images are not interesting to some
✔ Thick paper makes it hard to use Prismacolor pencils
The Magical World Of Horses: Adult Coloring Book (Volume 2)
My Rating: 4.5 out of 5
Best Place to Buy: Amazon.com
Description:
I have to say that this book is beautifully crafted. Each page has its own horse in different settings of a different breed and difficulty. You can choose from baby horses, unicorns, Pegasus, and horses of all ages, in this book. Definitely for the horse lover.
Pros:
✔ 90 pages to color
✔ One-sided pages, good for framing after you are done
✔ Beautifully crafted designs
Cons:
✔ Water-based markers bleed through the paper
✔ Some of the images are merged into the middle binding so coloring in the book can be difficult.
---
Conclusion
Adult coloring books can provide hours of distractions and relaxation. They are great for the whole family and a great way to sit together and enjoy each others company. Have someone you know who needs a little stress reduction? Adult coloring books make great gifts too! If your children are young you can pull out an adult coloring book and color right along with them, it is a great opportunity to give them some coloring lesson. "Stay in the lines kids!"
So which coloring book do I prefer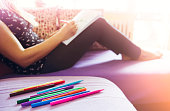 If you are like me, looking for something to keep you busy and you like a challenge, I prefer the Dragonflies book by Color Haven. I love dragonflies, they are so pretty and I can see them framed in a lot of different places in my home. If that sounds too difficult the Magical World of Horses book gives you different difficulty levels. No matter what you are looking for there is something for you.
I like to use Prismacolor pencils when I color because you can get a waxy look similar to oil. If not those pencils, then thin tipped markers are my second favorite because I like vibrant colors.
I hope this review is helpful and you are able to find a book and get started de-stressing.
If you have a favorite adult coloring book you would love to share please leave a comment below. Any feedback is always welcome!