Our children's well-being depends on the choices we make as parents. From the moment our children are born every choice we make for them will affect them both mentally and physically so it is important to always consider the best options when it comes to them, from what they eat to when they sleep. This contributed post provides us with 4 healthy tips for children to ensure they can maintain good emotional health and perform at their best.
As a parent, there are so many different things to be thinking about. Not only do we have to think about the day-to-day life admin, like getting them to school, homework, and sports clubs, but we have to think about the physical and mental well-being of our children too. The good news is that when you take a few steps in the right direction, you can help your child to be as healthy as they can, both mentally and physically.
That isn't to say that if your child or teen does have a breakdown and needs teen depression treatment, that you have done anything wrong; after all, we are all different. But a few things to encourage good help will be an important part of raising kids. So here are a few things to be thinking about.
Food and Drink
The food and drink that our children consume are going to affect them, their energy levels, and their mood. A diet that is lacking in the right vitamins and minerals has been proven to lead to anxiety, behavior problems, and low mood. So providing good food that will fill them with energy is an easy win as a parent. Have healthy snacks available for them to grab, as well as providing meals with plenty of fiber, whole grains, protein, and fruit, and vegetables. Think about your current consumption of cakes, chocolate, and candy, and look to reduce it. Energy drinks should be a no-go too.
Rest
When we are tired or haven't been able to rest properly, then we know how much of an impact it has on our daily life. The same goes for our children. We need to allow them enough time to rest, recover, and get plenty of sleep. While having them involved in a lot of different things, going from music class to sports class after school can take its toll. There is a lot to be said for having some time at home so that they can rest up and relax. Encouraging mindfulness is a good idea too; something like painting, doodling, or puzzles could be a good suggestion if your child has a hard time winding down.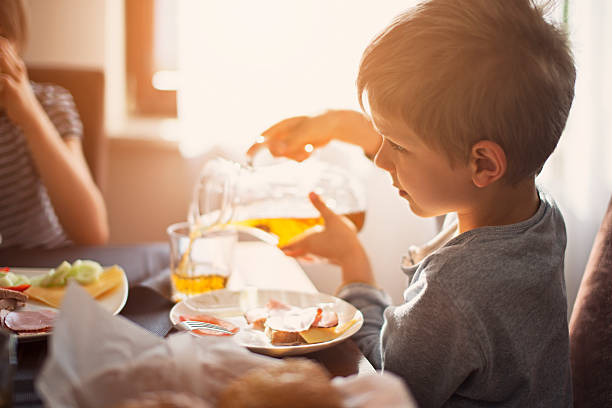 Establish Routine
Having a routine can help your child to feel in control of their life and bring structure to their days. As much as we all may hate to admit it, a routine can be a really good thing. So if you don't really have one, look at what you could be doing differently. Establish times on certain days for clubs or downtime at home. When they know what to expect each week or each day, it can make a big difference.
Encourage Positive Self-Esteem
If your child has low self-esteem, then it can be damaging and affect all parts of their life. So before this becomes a problem, help your children to recognize what they do well and what their skills are. Praise them when they do something well. Ask them what they think they did well or what they enjoy, and set some small but realistic goals for different things in life. When they feel like a success it can make a big difference in how they view themselves.
Conclusion
My children like to eat the things I eat and watch the things I watch and I am sure all parents can relate to this. But as a mom, I feel I am responsible for making the right choices so my children can do the same. Now there are exceptions of course, like I may watch a movie they are not old enough to watch. But when it comes to health choices I personally feel bad if I don't make those choices myself.
For instance, we all know what we eat will not only affect how we function now but it can affect our health in the long run. So making sure we teach our children a proper diet is important not only for them but for ourselves. Don't you think it is easier to get your children to do something you are already doing?
We all need rest in order to function and with our children in school they need all the energy they can to learn, they also need their sleep to grow. Sometimes it can be hard to get your children to wind down after a long day so mindfulness exercises are a great way to calm them down and help them relax. Also, reading a bedtime story is not a thing of the past it is still a very useful way to help your children fall asleep. 
Teaching your children a routine and sticking to one yourself is a very useful tip. It will help mornings and evenings go a lot smoother because you will know what to expect every day. This saves you stress and time to do other things you enjoy.
Lastly, a child's self-esteem is shaped at home. We as parents can give our children the foundation of confidence they need to conquer whatever they try to achieve. When we are positive and encouraging toward our children they will have an easier time in school. Hang those pictures on the fridge, you will do wonders for their self-esteem.
Do any of these tips stand out to you? Do you have any tips you would like to share? I would love to hear about them in the comment section below!